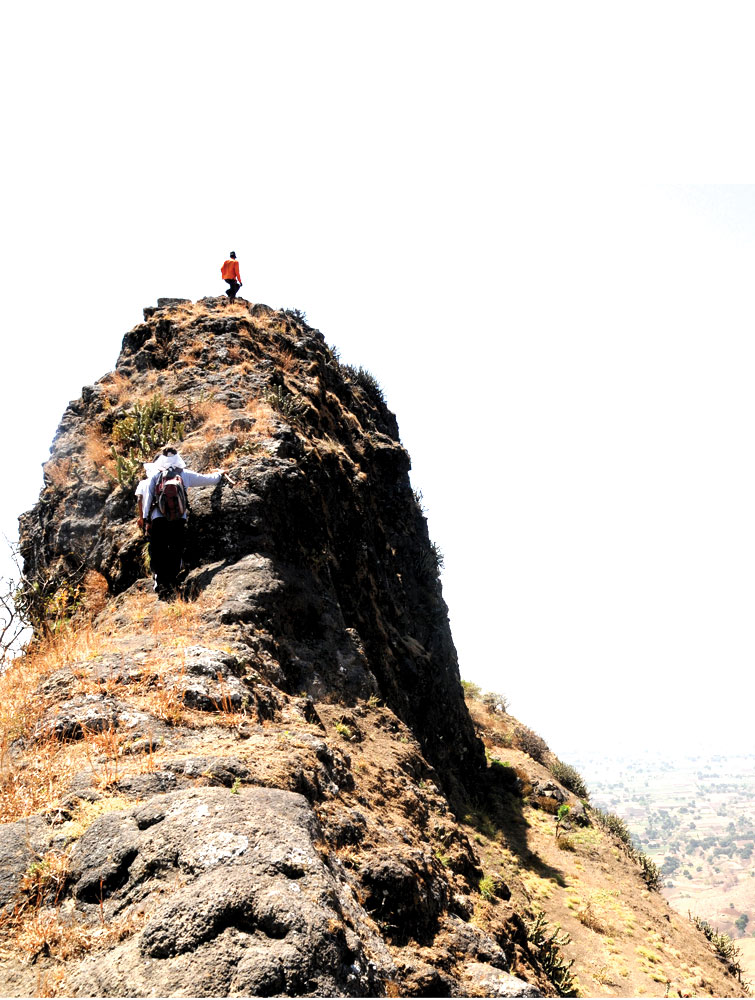 Durg Nahva Fort
---
Location Type
---
Hill Fort
Best season
---
All
Distance from nashik
---
124 K.M.
Trekking facts
---
Way:
Towards the West from Vadkhel
Time To Climb :
1 hour 30 mins/ half day trek
Difficulty Level:
easy
Spread:
Medium
Water Availability:
Not available
Carry Along:
No special equipments
Guide:
Available at Bhilwadi and Vadkhel
How to reach
---
NASHIK to Durg Nahva Fort
Reach By Car:
Convenient by car. Rent a car and sharing vehicles available from Taharabad.
Reach By Bus:
Buses available from Nashik till Taharabad, from there available up to Bhilwad.
Reach By Train:
Trains available up to Nashik Road.
By Boat:
No boat route.
Facilities available

Accommodation

Food

Garage

Medical aid

Near By Places

Petrol Pump

Shelter

Souvenir
---
Location Details
---
In January, 1680, Shivaji Maharaj himself wrote a letter to Vyankoji Maharaj which said that he had captured the Ahivant and Nhava forts from the Baglaan range. These were difficult to conquer but still they are under the Swarajya now. He also got some cash property along with it. Shivaji Maharaj had himself won this fort so its importance grew more than other forts. There was a Leader named Dhanaji who was a Nhavi by caste. Due to his prolonged support and achievements, this fort was named Nhavigad or Nahavagad.
User Experience
---
The Western Ghats in Maharashtra start from Baglan range. This mountain range is situated to the North of Nashik district, near the border of Nashik district in Maharashtra and Dang district in Gujarat. There are 2 distinct mountain chains called Selbari and Dolbari. Dolbaari comprises of Salher, Mulher, Mora, Hargad and Salota forts, whereas Selbari comprises Mangi-Tungi and Nhavigad. Nhavigad is also called Rantangad. On the way to the top, we can find water tanks and a temple. The steps are still there, but the entrance has been completely destroyed. The fort has a narrow apex, almost like a pinnacle. To reach to the topmost part, vertical climbing is needed. It takes around half an hour to see the fort. There are 3-4 tanks on the fort and remnants of some houses.
Do Not Miss
---
• East side small buruj, steps carved from stone, entrance door. • Historical remains of wada (bad condition). • 8 water tanks on top but water not potable for drinking . • Roofless Shiv Temple at the center of the fort. • East side view of Tambolya hill and Mangi –Tungi. • South side view of Mulher, Moragad and Hargad forts. • South-West view of Salher and Salota forts. • Haranbari Dam on West side.
Add Trek Review
Bhushan Joshi
---
Excellent information. But when I clicked on location it is showing near Ratangad fort.
Treks scheduled
Trek Date
No of people
Charges