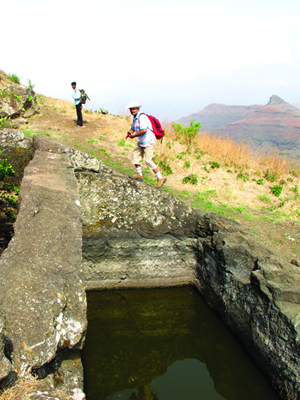 Bhilai Fort
---
Location Type
---
Hill Fort
Best season
---
All
Distance from nashik
---
95 K.M.
Trekking facts
---
Way:
From route before Dagadi- Sakode village, take right from the khind to reach the fort
Time To Climb :
1 hours / half day trek
Difficulty Level:
easy
Spread:
Small
Water Availability:
Not available for drinking
Carry Along:
Rope is necessary (slippery route)
Guide:
Not necessary
How to reach
---
NASHIK to Bhilai Fort
Reach By Car:
Convenient by car. Rent a car facility available at Nashik. Sharing vehicles available from Kalwan.
Reach By Bus:
Buses available from Nashik till Kalwan. Change bus from there to Dagadi-Sakode (less frequency)
Reach By Train:
Trains available up to Nashik Road.
By Boat:
No boat route
Facilities available

Accommodation

Food

Garage

Medical aid

Near By Places

Petrol Pump

Souvenir
---
Location Details
---
Seeing the location of Bhilai, it is assumed that it must be used to keep a watch on the surrounding region. In the history of the great forts Salher and Mulher, Bhilai has played an important role. This fort gained its importance during the pre-Mughal era. During those days, the Bhilai community was of Supreme power in the region and to project their importance this fort was named so by them. Bhilai has not witnessed any battle or a major event in the history. The information about the history is a mystery even in the minds of the locales.
User Experience
---
The Southern face of Bhilai is almost vertical.The Northern face is easier to climb. There are no entrance gateways or stone carved steps at this fort. The way is quite slippery. While climbing,one may feel scared looking back. At the foothills is a water tank carved in the rock. There is a way to the top besides this. Except for the water tanks and caves there are no historic remains at this fort. There is no fortification, bastions or entrance gateways. The top of the fort is quite small. But seeing the view of the neighboring region and forts, one may get lost in the beauty.To the North is the range starting from Salher, Salota to Mulher, Hargad. To the South is Chaulher and to the South-East is the Pimpalagad.
Do Not Miss
---
• View of Chaulher fort on South side. • Pimpla (kandala) on West side. • View of Salher, Salota on North side. • View of Mulher on North-East side.
Treks scheduled
Trek Date
No of people
Charges