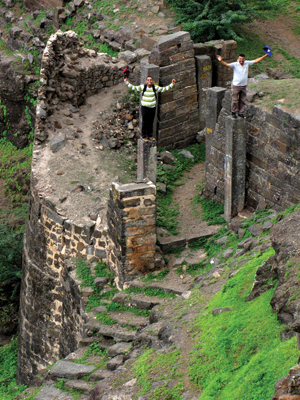 Bhamer Fort
---
Location Type
---
Hill Fort
Best season
---
All
Distance from nashik
---
263 K.M.
Trekking facts
---
Way:
From North-East side of Bhamer village
Time To Climb :
2 hours/ half day trek
Difficulty Level:
easy
Spread:
Large
Water Availability:
Available, in the caves and water tanks
Carry Along:
No special equipments
Guide:
Take one from Bhamer
How to reach
---
NASHIK to Bhamer Fort
Reach By Car:
Convenient by car. Rent a car facility available at Nashik. Sharing vehicles available up to Bhamer from Saakri.
Reach By Bus:
Buses available from Nashik till Saakri.
Reach By Train:
Trains available up to Nashik Road.
By Boat:
No boat route.
Facilities available

Accommodation

Food

Garage

Medical aid

Near By Places

Petrol Pump

Souvenir
---
Location Details
---
This fort is locally known as the fort of the Gawli king. Since there are no forts in the surrounding region, Bhamer fort became the one with utmost importance. Seeing the style of architecture, one can assume the work of construction has been done in the Satvahana period. Till the 18th century, Bhamer was under the rule of Islam. It was taken over by the Marathas during 1752 A.D. the British captured all the forts in 1818 A.D. and Bhamer was captured in 1820 A.D. after destroying the monuments and fortification.
User Experience
---
As soon as one enters the village, the entrance archway is beautifully visible with someintricately carved stone pillars around 8 ft. in height. There is a small water body besides it. The remains of an old mosque are seen nearby. Bhamer can be distinctly visualized in 3 different parts. On the fi rst part that enters into the village is a small dome painted in white. In the second part, rock cut caves and water tanks are seen in a recessed niche. The third part is the tallest and contains the main fort. It takes around 15 minutes to cross the fi rst part and reach the entrance way and the bastion at the second. To the left are the steps which take one to the caves and water tanks, biggest in number any fort can have. While proceeding towards the main fort, that is the third part, is another entrance way with bastions and fortification. There is a small temple on the top as well as some water tanks.
Do Not Miss
---
• Massive entrance door of Bhamer village with two buruj on either sides. • Water tanks on South. • Tatbandi on SouthEast side. • Caves on East side. • Caves (Buddha Leni) on North side. • West side remnants of old structures. • View of Dermaal, Pisolgad and Galna forts on South side. • View of Bhamer village on West side.
Treks scheduled
Trek Date
No of people
Charges