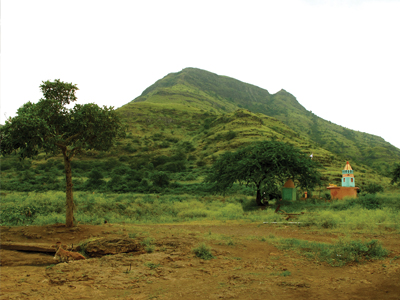 Bistha fort
---
Location Type
---
Hill Fort
Best season
---
All
Distance from nashik
---
129 K.M.
Trekking facts
---
Way:
From South of Kotbel/Bijote towards North
Time To Climb :
1 hours / half day trek
Difficulty Level:
easy
Spread:
Medium
Water Availability:
Available throughout the year
Carry Along:
No special equipments required
Guide:
Available at Pawarwadi. Not necessary
How to reach
---
NASHIK to Bistha fort
Reach By Car:
Convenient by car. Rent a car available from Nashik. Sharing vehicles, taxis auto available from Vani.
Reach By Bus:
Buses available from Nashik till Vani, Kalwan, from there buses and tourist vehicles available ahead.
Reach By Train:
Trains available up to Nashik Road.
By Boat:
No boat route.
Facilities available

Accommodation

Food

Garage

Medical aid

Near By Places

Petrol Pump

Shelter

Souvenir
---
Location Details
---
During the rule of Shivaji Maharaj, this fort was under the Mughal Empire. The pages of history don't state much about this fort. Probably this is the reason why there are not any historic remains seen here. This fort was a property of Baglan dynasty. It might be used to keep a watch on the neighboring activities just like the other forts near Satana. Since there are not much remains on this forts, it can be assumed that the fort is before the times of Chhatrapati Shivaji Maharaj.
User Experience
---
Bistha lies to the East of Salher on a range rich with natural beauty. Trees sparsely cover and shade the pathways which make the climb a bit comfortable in the otherwise schorching sun. While climbing and even after reaching the top, one does not see any remains of historic structures. The only signs of calling Bistha a fort are the caves and water tanks at the North. The North–South running range on which Bistha lies has many big small forts on it. Towards the North of the fort are Dermaal and Pisolgad. And towards the South are Karha, Dundha and Ajmera. The North of the range lies under forest and so is a bit difficult while that of the South is comparatively easy to access.
Do Not Miss
---
• Water tank on North side • 3 Carved out narrow rectangular caves on South side with water tank on top • A separated peak of the fort on North side gives an excellent view of Bistha fort to look like Tankai fort • North side view of Pisolgad and Dermaal and Bijote village • View of Kotbel village on East side.
Treks scheduled
Trek Date
No of people
Charges