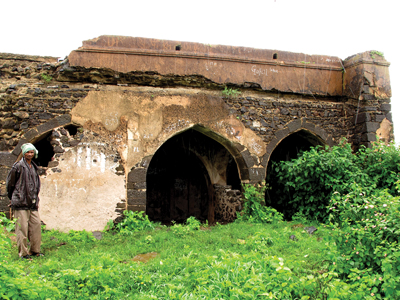 Pisolgad Fort
---
Location Type
---
Forest Fort
Best season
---
All
Distance from nashik
---
125 K.M.
Trekking facts
---
Way:
From East side of base village.
Time To Climb :
1 hour 30 mins/half day trek
Difficulty Level:
easy
Spread:
Medium
Water Availability:
Ample, small lakes all over the fort.
Carry Along:
No special equipments
Guide:
Available in Jaikheda. It is necessary
How to reach
---
NASHIK to Pisolgad Fort
Reach By Car:
Convenient by car. Rent a car facility available at Nashik. Sharing vehicles available from Taharabad upto Jaaikheda.
Reach By Bus:
Buses available from Nashik till Satana and Taharabad, from there upto Jaaikheda.
Reach By Train:
Trains available upto Manmad and Nashik Road.
By Boat:
No boat route
Facilities available

Accommodation

Food

Garage

Medical aid

Near By Places

Petrol Pump

Souvenir
---
Location Details
---
The 32nd king of the Baglan dynasty, named King Nandev conquered the fort of Pisolgad from the Gawli King Jagchaya. Along with Pisolgad, he conquered many other forts on the region thus establishing the Baglan rule. Later, the Baglan rule continued for almost 332 years. In 1637 A.D, the last ruling King Bahirji surrendered to the Mughals and Pisolgad became Mughul property. Along with that, they got treasure, horses, elephants, army, gold, coins, canons and all the surrounding forts. In 1707 A.D, after the death of Aurangzeb, the Nizams took over this fort until the Peshwas conquered it in 1774 A.D. In 1818 A.D, the British took the charge of all the forts in this region and soon their kingdom was established.
User Experience
---
Pisolgad is a wonderful half day trek. To the North and West of the fort, are small pinnacles of Pisolgad which form a small descending range. On the onset of the climb is the entrance gateway at the East along with the fortification and bastions. To the left of the main entrance door are some caves which are inhabited by the bats. Their voice is very scary and one has to be careful. Climbing up is seen the remains of an old structure on the left and an entry gateway hidden in the trees towards the right. Encircled by the trees are many lakes on the top. To the North-East is the secret doorway.
Do Not Miss
---
• Entrance door. • Caves on left side before entrance door. • West side remnants of the structure. • Second entrance door on West side. • Tatbandi on West side. • Chor darwaja (hidden entrance) on North-East at the center of the fort. • Small water lakes at the center of the forts. • Buruj and tatbandi on South side. • East side view of Dermaal fort. • West side view of Mangi-Tungi, Mulher forts, Jaaikheda village view. • South side view of Galna, Kankrala forts. • View of Bhamer fort on North side.
Add Trek Review
Santosh
---
Kumar
Treks scheduled
Trek Date
No of people
Charges