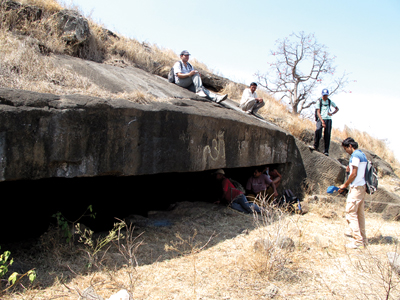 Dermaal fort
---
Location Type
---
Hill Fort
Best season
---
All
Distance from nashik
---
118 K.M.
Trekking facts
---
Way:
Take North route from Bilpuri village
Time To Climb :
2 hours / full day trek
Difficulty Level:
easy
Spread:
Large
Water Availability:
Ample, on West side in caves and water tanks
Carry Along:
No special equipments
Guide:
Available in Bilpuri. It is necessary
How to reach
---
NASHIK to Dermaal fort
Reach By Car:
Convenient by car. Rent a car facility available at Nashik. Sharing vehicles from Satana and Nampur.
Reach By Bus:
Buses available from Nashik till Satana. Change bus from there to Nampur.
Reach By Train:
Trains available up to Nashik Road or Manmad.
By Boat:
No boat route.
Facilities available

Accommodation

Food

Garage

Medical aid

Near By Places

Petrol Pump

Shelter

Souvenir
---
Location Details
---
The Baglan region of Nashik district is rich with the forts. But except for Salher-Mulher none of the forts were fortunate to witness the events in the past. Seeing the water tanks carved out in the rocks, it can be assumed that the fort existed during Chattrapati Shivaji Maharaj's reign. Then, all the forts of the Baglan region were in the hands of the Mughals. Seeing the temples on the fort, one cannot deny the possibility of Dermaal being a part of the Maratha kingdom.
User Experience
---
Dermaal is rich with the historical evidences.The spread is large so one has to take out time to see this fort in detail. It is believed that old coins are found in this region. The heritage of fortification and bastions and the remains of the entrance gateways are clearly visible at this fort. The North face of Dermaal is very popular. There are water tanks on the top. Rock cut caves are seen on the west. The complete region is devoid of shade giving trees. One has to climb for almost an hour to reach the top. There are 7 water tanks amongst which 5 are filled with water. The view this fort offers from the top is very serene. The vastness of the neighboring Pisolgad at the West can be also seen from here. Mangi–Tungi and Chaulher lie behind Dermaal.
Do Not Miss
---
• Buruj, rock cut steps and tatbandi on East side. • Free standing wall and open to sky temple on North-West side. • Seven water tanks on West side. • Caves on South-West side. • Buruj and tatbandi on West side. • View of Pisolgad on West side. • View of Bhamer on North side. • South side view of Galna and Kankarala forts.
Add Trek Review
Maqsood Shaikh
---
It was awesome experience
Treks scheduled
Trek Date
No of people
Charges