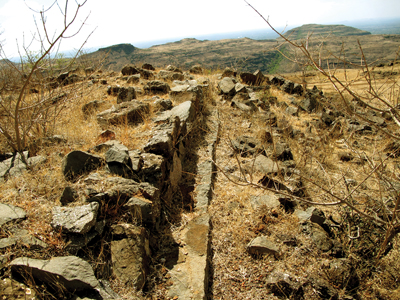 Ajmera Killa Fort
---
Location Type
---
Hills
Best season
---
All
Distance from nashik
---
105 K.M.
Trekking facts
---
Way:
1) From South side Pahadeshwar temple
Time To Climb :
half hours / half day trek
Difficulty Level:
easy
Spread:
Medium
Water Availability:
Not available on top, available at Pahadeshwar temple at the base.
Carry Along:
No special equipments
Guide:
Take one from Ajmer - saundane village
How to reach
---
NASHIK to Ajmera Killa Fort
Reach By Car:
Convenient by car. Rent a car facility available at Nashik.
Reach By Bus:
Buses available from Nashik till Satana. Change bus from there to Ajmer-Saundane.
Reach By Train:
Trains available up to Nashik Road.
By Boat:
No boat route.
Facilities available

Accommodation

Food

Garage

Medical aid

Near By Places

Petrol Pump

Souvenir
---
Location Details
---
Ajmer has not been a part of any historical event and so it is not much known for its history.
User Experience
---
There are meadows all over, ranging from shades of tender green to golden. The narro winding roads from the felds take one to the starting point of our trek. The Kalsubai sanctuary is a challenge to trekkers with its rugged hilly terrain and the Kalsubai pinnacle at its height is a real steep climb. The height offers a complete Panoramic view of the lush greens below. There are three iron ladders along this route. There is a well near the last iron ladder as one approaches the top. On its top is a tiny Temple of Kalsubai. On the East, there is Bitangad, Pattya frot, Aundha and the in the West lies Alang-Madan-Kulang's spread. On the South is Ratangarh, Kumabai's Khind and the strongly standing Pabargarh. The vastly spread out backwaters of Bhandardara attracts ones attention from the top.
Do Not Miss
---
• Temple of Parshuram rishi on top. • View of Saalota fort from Eastern end. • Narrow doorways while climbing from western side. • Continuous caves on right side, narrow doorways and steps while descending from East side. • Neatly built lake at the middle top. • Renukadevi and Ganpati temple next to temple in front of caves.
Treks scheduled
Trek Date
No of people
Charges