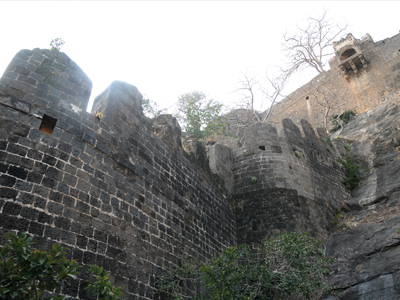 Galna fort
---
Location Type
---
Hill Fort
Best season
---
All
Distance from nashik
---
130 K.M.
Trekking facts
---
Way:
Easy route from Galna
Time To Climb :
Half hours/half day trek
Difficulty Level:
easy
Spread:
Medium
Water Availability:
Ample
Carry Along:
No special equipments
Guide:
Available at the village, not necessary
How to reach
---
NASHIK to Galna fort
Reach By Car:
Convenient by car. Rent a car facility available form Nashik, Malegaon.
Reach By Bus:
Buses available till Malegaon. Sharing vehicles and buses available ahead on Kusumba road.
Reach By Train:
Trains available up to Manmad Manmad-Malegaon buses available.
By Boat:
No boat route.
Facilities available

Accommodation

Food

Garage

Medical aid

Near By Places

Petrol Pump

Shelter

Souvenir
---
Location Details
---
Carved in the history, the fort was a prominent place during the end of the 15th century. During the 14th century, Galna was ruled by the Hindu kings. Between 1510 A.D. to 1526 A.D., it came under the Mughal kingdom. Later on, the King of Baglan, Bahirji conquered the fort. In 1515 A.D., the Nizam king Hussain attacked the fort without giving any notice and won the fort brilliantly. In 1631, Nizamshah was murdered and this weakened the foundations of the Nizam kingdom. After a lot of events marked in the history, this fort came in the hands of the Marathas on 1752 A.D. And at the end in 1818 A.D., Galna was occupied by a company of native infantry. Further, it is believed to have been once used as a sanatorium for Dhulia.
User Experience
---
A broad flightof steps lead to the fort. There are four gateways,namely,Parkot,Lokhandi gate is remarkable handsome and is lined wuth iron plates from which it takes its name. The upper walls of the fort consist of bastions,which are semi-circular in shape. One of the intresting areas here is a mosque topped with six small domes. The mosque consist of one room about forty-eight feet long and twenty-five broad,and has a handsomlycarved stone window opening on a balcony surmounted by elegant cupola which offer a very good view. It is inclusive of a small room and a beautifully carved out stone window. the mosque is accessible through a stone staircase. Besides, the tomb of a european officer,who is believed to have committed suicide in grievance for having killed an old woman,can be see.There are also seven other tombs on the hilltop.the ruins of Rang mahal also know as pleasure palace can be seen nearby.
Do Not Miss
---
•Tatbandi and huge buruj. •Monumental doorway and hidden door. •Jarokha. •Mosque on top. •Caves and maruti mandir in caves. •View of galna village. •Bathing tank and dargah on top.
Treks scheduled
Trek Date
No of people
Charges