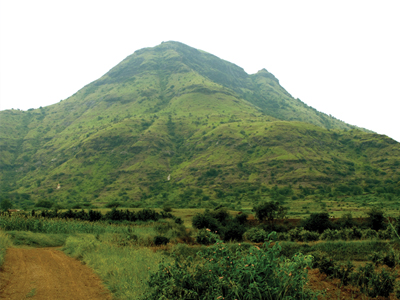 Karhegad fort
---
Location Type
---
Hill Fort
Best season
---
All
Distance from nashik
---
108 K.M.
Trekking facts
---
Way:
Easy way from Kolipada
Time To Climb :
1 hour 30 mins/ half day trek
Difficulty Level:
easy
Spread:
Large
Water Availability:
Water available in water tanks up to February
Carry Along:
No special equipments
Guide:
Available at Kolipada
How to reach
---
NASHIK to Karhegad fort
Reach By Car:
Convenient by car. Rent a car available from Nashik. Sharing vehicles, taxis auto available from Vani.
Reach By Bus:
Buses available from Nashik till Vani, Kalwan, from there buses and tourist vehicles available ahead.
Reach By Train:
Trains available up to Nashik Road.
By Boat:
No boat route.
Facilities available

Accommodation

Food

Garage

Medical aid

Near By Places

Petrol Pump

Souvenir
---
Location Details
---
Karhegad was under the Mughal kingdom during the reign of Shivaji Maharaj. It does not have a noteworthy history to it. All the forts which fall towards the East of Baglan have remained aloof from the history. For a longtime, this region was ruled by the Mughals. And to the West of Baglan was the Hindu rule. Before the British took over the fort in 1818 A.D., there were many differences between the Mughals and Marathas over acquiring the fort. The Marathas were able to create an upper hand in their entire span of rule. Karhegad is also known as Kamaalpir
User Experience
---
There is a small temple of Goddess Durga on the top of this fort. Karhegad, towards the East of Bistha, grabs attention due to the tiny temple on the top. It lies on the range which spreads to the South of Bistha. Karhegad has vertical faces on all the three sides except the North. This strengthens it more. To the North, there are some water tanks carved on the top as well as on the sides. The view from the top is exhilarating. Towards the North are the garlands of small and big hillocks in green gives a soothing view. Towards the South lies Ajmer. Towards the North–East lies Dundha surrounded by tress all around which appeals to the eye. This fort is a must watch if one is planning to go in the region around.
Do Not Miss
---
• Temple of Godess Durga on top. • Carved out water tanks on top. • View of Ajmer fort on South side. • View of Bistha towards East side. • View of Dundhagad towards North-East side.
Treks scheduled
Trek Date
No of people
Charges