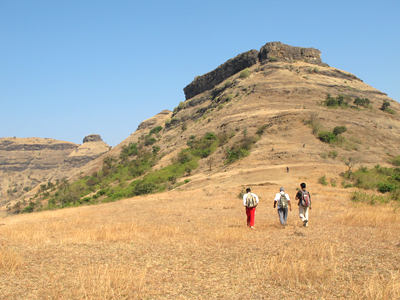 Pimpala / Kandala fort
---
Location Type
---
Hill Fort
Best season
---
All
Distance from nashik
---
91 K.M.
Trekking facts
---
Way:
Towards the North-East from Savarpada
Time To Climb :
2 hours 30 mins/ 1 day trek
Difficulty Level:
easy
Spread:
Medium
Water Availability:
Water available in caves up to January
Carry Along:
No special equipments
Guide:
Available at Savarpada
How to reach
---
NASHIK to Pimpala / Kandala fort
Reach By Car:
Sharing vehicles available up to Vani, from Vani and Abhona up to Savarpada.
Reach By Bus:
Buses available till Kanashi from Nashik.
Reach By Train:
Trains available up to Nashik Road.
By Boat:
No boat route.
Facilities available

Accommodation

Food

Garage

Medical aid

Near By Places

Petrol Pump

Shelter

Souvenir
---
Location Details
---
Kandala has not witnessed any historical event.The top of kandala is not so broad and so it might be used for any other purpose than a watch tower.
User Experience
---
Kandala has a big puncture in its rock wall and this is its peculiarity. There are rock cut water tanks on the top. This not so known fort is excellent for trekking. To the North are the great forts of Salher-Salota and to the far East are Hargad and Mulher. The historic range of Selbari is a collection of the finest forts. The route to the base village is very refreshing and one gets lost appreciating the beauty. The base village has a lake where fi shing is done.Starting from the foothills one has to climb up the serpentine pathways to reach the top. In the way is a statue of Goddess carved out in the rock. Moving ahead what is seen is beyond the expectations. The rock has a throughout puncture in it and the opposite side is seen clearly through it. One has to cross this tunnel to reach the other side. Reaching here one sees the great forts of Salher and Salota. The complete Selbari range with its mountains and valleys is visible from here. There is a cave towards the left Again, climbing towards the South one reaches the top which spreads North–South. The entire region is seen as a lush green carpet from the top. There are a number of small lakes and dams in this region and so the farmlands are very fertile. The entire Sahyadri range is visible from here if the skies are clear enough to make you feel fortunate.
Do Not Miss
---
• Tunnel on top (biggest tunnel in Maharashtra). • Water tank on East side and top. • View of Salher, Salota fort on North-East side. • South-East side view of Bhilai fort.
Add Trek Review
Vijaykumar pithiya
---
Good app sirji
Treks scheduled
Trek Date
No of people
Charges