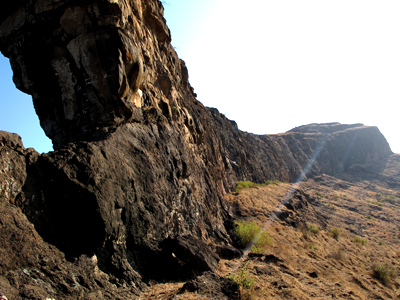 Mohandari fort
---
Location Type
---
Hill Fort
Best season
---
All
Distance from nashik
---
54 K.M.
Trekking facts
---
Way:
Towards the North from Mohandari village
Time To Climb :
1 hour/ half day trek
Difficulty Level:
easy
Spread:
Medium
Water Availability:
No, available in Mohandari village
Carry Along:
No equipments required
Guide:
Available at Mohandari
How to reach
---
NASHIK to Mohandari fort
Reach By Car:
Convenient by car. Rent a car available from Nashik. Sharing vehicles, taxis auto available from Vani.
Reach By Bus:
Buses available from Nashik till Vani, Kalwan, from there buses and tourist vehicles available ahead.
Reach By Train:
Trains available up to Nashik Road.
By Boat:
No boat route.
Facilities available

Accommodation

Food

Garage

Medical aid

Near By Places

Petrol Pump

Souvenir
---
Location Details
---
The original name of Mohandari was Shidka but derived from its base village Mohandar, it is now known as Mohandari. There is no reference of Mohandari on the pages of history. It is completely aloof from the battles or events that happened in the past. It is an old belief that centuries ago, there were devils staying in this region, which used to spread terror amongst the people staying here. Then to destroy them, Goddess Saptashrungi appeared here. In the war between the devil and the Goddess, the Devil was about to lose. At that time he started running away from the Goddess to escape from his death. The goddess then followed him and on the way, the rock of Mohandari came in the way and the goddess kicked it. And so is the shape of Mohandari such with a throughout puncture in the rock.
User Experience
---
Starting form the base village, it takes almost 45 minutes to reach the mid of the top which has the throughout puncture in the rock. It offers an excellent view of the surroundings and the base village down. The fortifications are weekly visible which shows that Mohandari dates back in history. After reaching the top one can see water tanks on the East-West spread wide plateau. Towards the South are Saptashrungigad, Markandya, Kanhergad. Towards the West are Achala and Ahivant. To the North are Salher-Salota and Chaulher of Selbari range.
Do Not Miss
---
• Natural Nedha (needle head) puncture in solid rock. • Water tanks on top. • Plinths, platforms of historical buildings. • South side view of Sapthshrungigad. • West side view of Avihantgad. • North side view of Selbari Range. • South side view of Mohandari village.
Treks scheduled
Trek Date
No of people
Charges