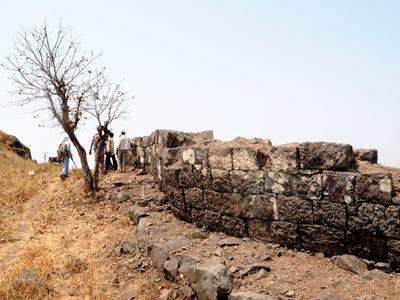 Khairai fort
---
Location Type
---
Hill Fort
Best season
---
All
Distance from nashik
---
68 K.M.
Trekking facts
---
Way:
From Thanpada to Ashram school and then towards North
Time To Climb :
1 hour/ half day trek
Difficulty Level:
easy
Spread:
Medium
Water Availability:
Available in the water tank up to January
Carry Along:
No specific equipments
Guide:
Advisable to hire one from Thanpada and Ashramshala
How to reach
---
NASHIK to Khairai fort
Reach By Car:
Convenient by private car. Rent a car available from Nashik, Harsul to Thanpada (Ashram Shala).
Reach By Bus:
Buses available from Nashik till Harsul and Thanpada.
Reach By Train:
Trains available up to Nashik Road.
By Boat:
No boat route.
Facilities available

Accommodation

Food

Garage

Medical aid

Near By Places

Petrol Pump

Souvenir
---
Location Details
---
There is no prominent event occurred at Khairai which could place it on the plot of history. This fort might be used as a fort for patrolling during the historic times. There is no fort in the surrounding region which has marked itself in the pages of history. It is said by the local villagers here that during the reign of Chhatrapati Shivaji Maharaj, this fort was constructed in just 24 hours. The arrival of Shivaji Maharaj on the land of Khairai has made it an important fort. Khairai was controlled by the leader of Waghera fort.
User Experience
---
To the South-West of the fort is Khairaiwadi, the base village. The fortification and the entrance gateways are completely dilapidated and need attention. On the top, is a temple of God Vetaal. The temple here is one without any roof or walls. The area is flooded with bells the visitors tie in a belief that their wishes would be granted. The sonorous notes the wind creates here can leave one spell bound. Near the temple lie some canons which indicate that the fort had its own arms and ammunitions. There is a dry well on the top of the fort and two water tanks. This region completely transforms into a beautiful green area after the monsoons. To the North-West of Khairai is the Songiri fort.
Do Not Miss
---
• Two cannon average length 6 ft. • Tatbandi on South and North side . • Remnants of Door on North side. • Open roof Shankar Temple. • Beautiful view from wadi (group of 10-12houses). • View of beautiful landscape around wadi.
Treks scheduled
Trek Date
No of people
Charges