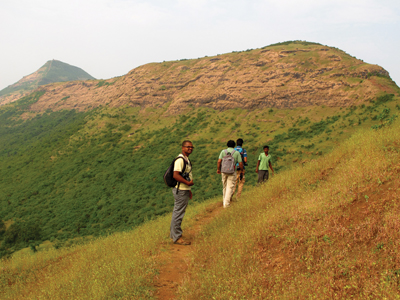 Kem hill
---
Location Type
---
Hill Fort
Best season
---
All
Distance from nashik
---
66 K.M.
Trekking facts
---
Way:
Take South route from Harantekdi.
Time To Climb :
2 hours/ half day trek
Difficulty Level:
easy
Spread:
Large
Water Availability:
Yes, up to November a spring is available on top
Carry Along:
No special equipments
Guide:
No special equipments
How to reach
---
NASHIK to Kem hill
Reach By Car:
Rent a car and sharing vehicles available from Nashik and Vani.
Reach By Bus:
Buses available from Nashik till Harantekdi.
Reach By Train:
Trains availabe up to Nashik Road.
By Boat:
No boat route.
Facilities available

Accommodation

Food

Garage

Medical aid

Petrol Pump

Souvenir
---
Location Details
---
Kem is a hill and not a fort so it does not have a reference in the pages of history.
User Experience
---
Kem is an important and attractive mountain standing in the western part of the Satmala ranges. It is located on the Vani–Saputara highway and hence close to Saputara which is a hill station. The Nirhal hill is to its North-East. Kem is a giant hill on the western edge, South-West of fort Hatgad. The river Girna originates from the Kem hill and fl ows East across Nashik and Jalgaondistricts, swinging North in Jalgaon District to join the Tapti River. The dams on the river are Chanakapur and Girna Dam. The name Girna derives from the name of Goddess Giraja (Parvati) whose temple is situated on the top of the mountain. The village devotees visit the temple regularly. The route is devoid of trees and reaching the top is quite easy. Towards the North-East are seen four rivers which have originated from this region. The basin of the Girna lies on the Deccan plateau, and its valley has fertile soils which are intensively farmed. The Kem hill is barren but quite prominent. A long route fl anks the hill to the top.
Do Not Miss
---
• View of Harantekdi village on North side. • Chanakpur dam view of South side. • Beautiful rivers of Girna and Naar-paar on East side. • Surgana expanse view of West side.
Treks scheduled
Trek Date
No of people
Charges