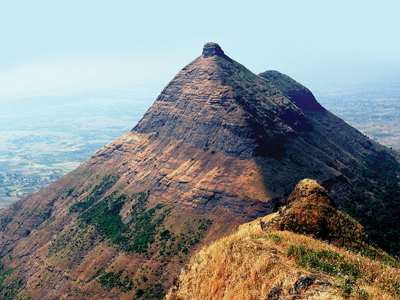 Taulya Peak
---
Location Type
---
Hill Fort
Best season
---
All
Distance from nashik
---
58 K.M.
Trekking facts
---
Way:
From East side base of Taulya
Time To Climb :
2 hours/ half day trek
Difficulty Level:
Difficult
Spread:
Small
Water Availability:
Not available
Carry Along:
Special equipments required. Rope is must
Guide:
Available in Pimpri Achala or Hastmala village.It is necessary.
How to reach
---
NASHIK to Taulya Peak
Reach By Car:
Convenient by car. Rent a car facility available at Nashik. Sharing vehicles available up to Vani and from there up to the base village.
Reach By Bus:
Buses available from Nashik to Vani and from Vani to Pimpri Achala.
Reach By Train:
Trains availabe up to Nashik Road.
By Boat:
No boat route.
Facilities available

Accommodation

Food

Garage

Medical aid

Petrol Pump

Souvenir
---
Location Details
---
Taulya is not a hill fort but a peak. It has no relevant past to its existence in the battles during the times of history.
User Experience
---
Taulya is the western most point of the Satmala range. The pinnacle of Taulya stands tall on the land, rich with the signifi cance of Achala and Ahivant. Taulya is best viewed from the Achala fort. The way to the top is slippery. The climb is very easy and interesting. Reaching the top of the pinnacle makes the journey worthwhile. The peak is very easy to identify due to its peculiarly shaped pinnacle like projection. Vani–Saputara road from Nashik fl anks its western edge. Though the trek is diffi cult, it is quite enjoyable. Taulya is located just next to the twin forts of Achala and Ahivant which are very famously known for its beauty. ince Taulya lies in the Vani region, Saptashrungigad is nearby which is flooded by the devotees of the Goddess throughout the year. To the right is the Selbari-Dolbari range. The lack of any historic remains in the region takes away the title of 'fort' from Taulya.
Do Not Miss
---
• East side temple. • View of Achala fort on East side. • View of Vani-Saputara road on West side. • View of Kem hill on South-West side.
Treks scheduled
Trek Date
No of people
Charges