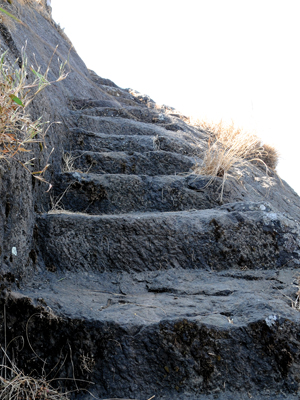 Achala Fort
---
Location Type
---
Hill Fort
Best season
---
All
Distance from nashik
---
58 K.M.
Trekking facts
---
Way:
Easy way from North side of Pimpri Achala.
Time To Climb :
1 hour 30 mins/ half day trek
Difficulty Level:
easy
Spread:
Medium
Water Availability:
ample, water tank at the center of the fort
Carry Along:
No special equipments
Guide:
Available in Pimpri Achala village. It is necessary
How to reach
---
NASHIK to Achala Fort
Reach By Car:
Convenient by car. Rent a car facility available at Nashik. Sharing vehicles available up to Vani and from there up to the base village.
Reach By Bus:
Buses available from Nashik to Vani and from Vani to Pimpri Achala.
Reach By Train:
Trains availabe up to Nashik Road.
By Boat:
No boat route.
Facilities available

Accommodation

Food

Garage

Medical aid

Petrol Pump

Souvenir
---
Location Details
---
In 1680 A.D, this fort was said to be a part of Swarajya, i.e., Shivaji Maharaj's kingdom. It has no distinct history. Chatrapati Shivaji Maharaj conquered it from the Mughals. Later on the fort was with the Nizams. There is not much information known about this fort. It might be used to keep a watch on the surrounding region. In 1818 A.D., after taking over the Trimbak fort and the forts in the surrounding area, Achala fort was taken over by colonel Mc Dowell. But, who was the ruler before him is not known.
User Experience
---
The Northern range of Sahyadri spreads East-West, in which Achala is the one at the west. Achala fort, nestled in Nashik, is famous for its scenic locale. Achala lies in the western most point of Nashik district. Achala has beautiful surroundings which include Ahivant and Taulli which can be seen from the top. The beautiful Achala fort is special for its complete green covering without a single tree. One has to climb straight keeping the vertical faces of the fortress at the left Two water caves can be found, however only one of them contains water in it. No shielding wall or temple is present here. In the village of Pimpri there are many deities of stone fully covered in Shendur (orange coloured holy substance), the largest one is almost seven feet high.
Do Not Miss
---
• Open to sky Shiv temple on top. • Water tank near Shiv temple. • West side view of Taulya Peak. • East side view of Avihant fort. • South side view of Achala Pimprigaon.
Add Trek Review
Kumar
---
Must visit
Gourang Ambulkar
---
This is a great fort to visit.
Treks scheduled
Trek Date
No of people
Charges