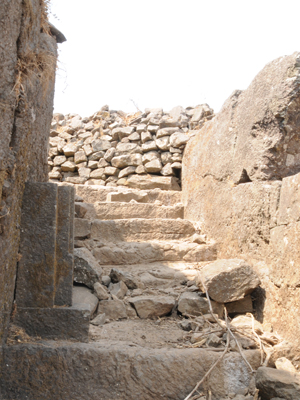 Ahivant Fort
---
Location Type
---
Hill Fort
Best season
---
All
Distance from nashik
---
60 K.M.
Trekking facts
---
Way:
1) From the valley of Achala 2) Two ways from Bilwadi 3) Towards West of Daregaon
Time To Climb :
2 hours/full day trek
Difficulty Level:
easy
Spread:
Large
Water Availability:
Available till March
Carry Along:
No special equipments
Guide:
Available at the village a local guide is must because the plateau is very big and one can get lost.
How to reach
---
NASHIK to Ahivant Fort
Reach By Car:
Convenient by car. Rent a car facility available from Vani and Nashik.
Reach By Bus:
Buses available from Nashik till Daregaon bypass.
Reach By Train:
Trains availabe up to Nashik Road.0.0
By Boat:
No boat route.
Facilities available

Accommodation

Food

Garage

Medical aid

Petrol Pump

Shelter

Souvenir
---
Location Details
---
The huge fort of Ahivant came under the Swarajya during the reign of Chhatrapati Shivaji Maharaj in November 1670 A.D. Shivaji Maharaj mentioned this victory in a letter written to his elder brother, Vyankoji Maharaj. In August 1680 A.D., the Mughal Sardar Bahadur Khan surrounded the fort from all sides. But, he had to move behind learning the tactics of the Maratha warriors. Later in 1685A.D., Ahivant was conquered by the Mughals and soon was conquered back by the Marathas. History clearly mentions this has been one of the important forts of the Maratha Kingdom.
User Experience
---
On the North of Saptashrungi and to the West of Dhodap fort, is situated this fort with a big plateau. Not very frequently visited by trekkers, this fort has seen many battles in the history. Although Achala and Ahivant are neighbors, Ahivant has a broader plateau unlike Achala, which takes almost a full day to explore it. A cave at the edge is wonderfully situated. A stay in such a cave should be a great experience. In Dare village, one will find devastated structures of two big entrances. In the nearby area there are remnants of many old palaces, which show that this fort was well equipped with a defense base. There are Shivling at many places. There are three lakes which provide a seasonal source of water. A temple with a statue resembles Saptshrungi.
Do Not Miss
---
• Caves on South and center. • Shivpind. • Tatbandi. • Remnants of doors and monuments. • Open to sky Mahadevpind. • View of Saptashrungigad on South. • View of Dhodap fort on East side. • Three lakes.
Add Trek Review
Mohan baxi
---
You should organize regular trek here
Gourang Ambulkar
---
Excellent fort for trekking. Very big plateau. Tallest in the Satmala range. Do not miss climbing Budhya as well. It is thrilling. Exit from Rajmarga is superb.
Treks scheduled
Trek Date
No of people
Charges