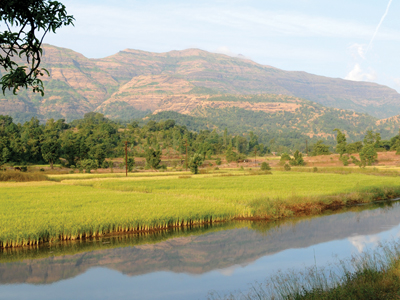 Kalsubai peak
---
Location Type
---
Hill Fort
Best season
---
All
Distance from nashik
---
62 K.M.
Trekking facts
---
Way:
Soon after leaving Bari, a small stream is crossed followed by a Hanuman temple. The route from behind this temple takes the hiker straight to the summit.
Time To Climb :
3 hours /one day trek
Difficulty Level:
easy
Spread:
Medium
Water Availability:
Ample on top East side
Carry Along:
No special equipments
Guide:
Available at Bari
How to reach
---
NASHIK to Kalsubai peak
Reach By Car:
Convenient by car. Rent car available at ghoti.
Reach By Bus:
Buses available for Bhandardara from Ghoti. Get down at the Bari junction.
Reach By Train:
Train available up to Igatpuri.
By Boat:
No boat route.
Facilities available

Accommodation

Food

Garage

Medical aid

Near By Places

Petrol Pump

Souvenir
---
Location Details
---
Kalsubai is the highest peak of Sahyadris in Maharashtra like the Everest is the highest in the world. It is not a fort, but it has gained its importance being the highest peak. There is a story about Kalsubai which is passed on through generations. There was a poor girl named Kalsu who loved wandering in the forests. Once while wandering she reached Indur village at Kalsubai's foothills towards the west. A family gave her a job there, but she kept a condition that she would not clear the litter. After some time passed she was told to clean some household mess and according to the command, she did so. She left the job, climbed to the peak and stayed there for the rest of her life. The people then started believing her as their goddess and built a small temple of Kalsubai atop.
User Experience
---
There are meadows all over, ranging from shades of tender green to golden. The narrow winding roads from the felds take one to the starting point of our trek. The Kalsubai sanctuary is a challenge to trekkers with its rugged hilly terrain and the Kalsubai pinnacle at its height is a real steep climb. The height offers a complete Panoramic view of the lush greens below. There are three iron ladders along this route. There is a well near the last iron ladder as one approaches the top. On its top is a tiny Temple of Kalsubai. On the East, there is Bitangad, Pattya fort, Aundha and the in the West lies Alang-Madan-Kulang's spread. On the South is Ratangarh, Kumabai's Khind and the strongly standing Pabargarh. The vastly spread out backwaters of Bhandardara attracts ones attention from the top.
Do Not Miss
---
• Kalsubai temple on top. • View of Bhandardara dam backwaters from top. • View of Bitangad, Pattya and Aundha fort on East side. • View of Alang, Madan and Kulang on west • View of Ratangad and Pabargad on South side.
Add Trek Review
Mitesh Madake
---
Thank you for an outstanding information. कळसूबाई शिखर कळसूबाई हे महाराष्ट्रातील सर्वांत उंच पर्वतशिखर आहे.समुद्रसपाटीपासून त्याची उंची ५४०० फूट म्हणजे सुमारे १६४६ मीटर आहे. नाशिक-इगतपुरी महामार्गावरील घोटी या गावापासून घोटी-भंडारदरा रस्त्याने गेल्यास बारी हे गाव लागते. बारी हे गाव कोळी महादेव या आदिवासी जमातीचे आहे. या गावापासून कळसूबाई शिखरावर जाण्याचा मार्ग आहे. शिखरावर कळसुबाई देवीचे एक छोटे मंदिर आहे. देवीची अख्याइका सांगितली जाते कि, कळसुबाई हि तेथील गावातील सून होती, तिला बऱ्यापैकी औषधी वनस्पती बद्दल ज्ञान होते. त्यान ती गावातील लोकांची सेवा करत असत. कालांतराने मृत्यू नंतर गावातील लोकांनी तिची ओळख म्हणून त्या शिखराला तिचे नाव दिले. आणि आठवण म्हणून शिखरावर छोटे मंदिर बांधले. आदिवासी समाजामध्ये पूर्वजांना देव मानले जाते म्हणून आजही कळसुबाई ला ते आपली देवी मानतात. कळसुबाई हि आदिवासींची कुलदेवी आहे. संगमनेर गावापासूनही भंडारदरामार्गे बारी गावास जाता येते. ट्रेकिंग चा छंद असेल तर भेट द्यायला उत्तम ठिकाण.
Asha Madake
---
I love this place. The highest peak of Maharashtra Mt. Kalsubai is a trek for everyone in and around Mumbai & Maharashtra should try to do. Had an amazing experience! Thanks for the guidance. Also, the food was surprisingly delicious.
Maqsood Shaikh
---
Highest peak in Maharashtra...awesome view from top...location details mentioned are really helpful
Treks scheduled
Trek Date
No of people
Charges