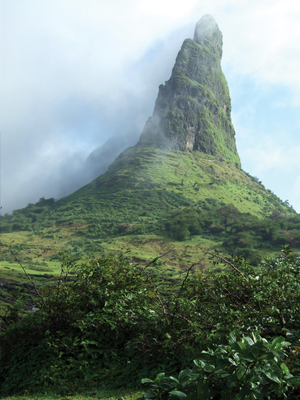 Saptashrungigad
---
Location Type
---
Hill Fort
Best season
---
All
Distance from nashik
---
55 K.M.
Trekking facts
---
Way:
1) Easy way from South side of Nanduri village. 2) Route form Vani Goan- walk 4 km take right start climbing to reach the top
Time To Climb :
2 hours/1 day trek
Difficulty Level:
medium
Spread:
Medium
Water Availability:
Ample, Hotels, rest house on top of the fort, temple
Carry Along:
No special equipments
Guide:
Not necessary
How to reach
---
NASHIK to Saptashrungigad
Reach By Car:
Convenient by car. Rent a car facility available at Nashik. Sharing vehicles available up to Vani and from there up to Nanduri village.
Reach By Bus:
Buses available from Nashik to Vani and from Vani to Nanduri village.
Reach By Train:
Trains availabe up to Nashik Road.
By Boat:
No boat route.
Facilities available

Accommodation

Food

Garage

Medical aid

Petrol Pump

Souvenir
---
Location Details
---
It does not have a history of victory and defeat. Saptashrungigad is not a hill fort. But due to its historic religious background and the number of options it gives for climbing, it is a famous place for the trekkers. The Goddess at Saptashrungi is also known as Goddess of Vani, Vani being the base village. The steps that are built to reach the temple were built in 1768 A.D. to 1769 A.D. Amongst these, 472 steps were built by the leader of Shahu Maharaj's army, Umabai Khanderao Dabhade in the year 1710 A.D. the festival of Navratri is celebrated with great enthusiasm here. Almost lakhs of devotees come to this place to pray to the Goddess.
User Experience
---
The temple of Goddess Saptashrungi on the fort has converted the complete village into a religious place. A temple amidst the rocks is simply beautiful. The East facing statue of the Goddess looks very peaceful. Markandya fort is right in the front, towards the East alongwith Rawla–Jawla, Dhodap and Kanhergad. Behind Saptashrungigad are Ahivant and Achala forts. And to the North are Mohandari, Premgiri and Chaulher forts. The top has a small temple of saint Parshuram. This entire region is always flooded with the devotees throughout the year. In the rains, one is reminded of the Himalayas seeing Saptashrungigad. It is carpeted with greenery in the heavy rains the clouds pour.
Do Not Miss
---
• Surya Kund (lake) on South side. • Kali Kund on South side. • Shivalaya Tirth near Surya Kund. • Sheet kada on East side. • View of Markandya on East side. • View of Shidka Fort (Mohandari) on North side. • Saptashrungi Devi Temple on West side.
Treks scheduled
Trek Date
No of people
Charges