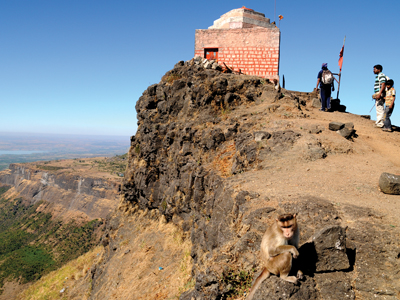 Markandyagad
---
Location Type
---
Hill Fort
Best season
---
All
Distance from nashik
---
56 K.M.
Trekking facts
---
Way:
1) Take left from Babapur Khinda or 2) Take South route from Markandya–Pimpri village to reach Markandya
Time To Climb :
2 hours/full day trek
Difficulty Level:
easy
Spread:
Medium
Water Availability:
Ample, middle level at Ashram, also available at top at Ashram
Carry Along:
No special equipments
Guide:
Not necessary
How to reach
---
NASHIK to Markandyagad
Reach By Car:
Convenient by car. Rent a car facility available at Nashik. Sharing vehicles available from Vani.
Reach By Bus:
Buses available from Nashik to Vani. Change bus from Vani for to the base (less frequency).
Reach By Train:
Nearest railway station is Nashik Road and Manmad.
By Boat:
No boat route.
Facilities available

Accommodation

Food

Garage

Medical aid

Petrol Pump

Shelter

Souvenir
---
Location Details
---
When the Ratrakuthas ruled this region, Markandya was known as Mayurkhandi. The Baglans ruled Mayurkhandi for almost 350 years. After 1637 A.D, the Mughal Emperor Aurangzeb ruled the region. After conquering the fort of Salher in 1670 A.D., the arathas conquered all the forts in the neighbouring areas. Markandya was amongst them. The Mughals ruled this region after the Marathas and then came the Peshwas. In 1818 A.D., during the battle of the Marathas and the British, the Marathas had to accept defeat. The fort was partly destroyed during the battle and still can be seen in ruins.
User Experience
---
There is a temple on the very top of the fort with an idol of the sage Makandya praying & facing exactly in the direction of the Saptashrungi temple which is just ahead. A little lower down there are a few water tanks, one of them being underground. The local people mention a storehouse for ammunition or "Barud Khana" that was used by the Peshwas but that is no where in sight. The tribe Jangam stays here who build memorial stones over their dead. There is a large plinth & a structure, which seems to have been converted into living quarters by some people. Mostly hermits lived here. The view of Saptashrungigad from the top of Markandya fort is very attractive.
Do Not Miss
---
• Ashram at middle level and on top at East side. • Caves on the route to the top of the fort. • Markandya rushi temple on the top. • Underground water tank. • View of Saptashrungigad on East side.
Add Trek Review
Gourang Ambulkar
---
Awesome place to visit
Treks scheduled
Trek Date
No of people
Charges