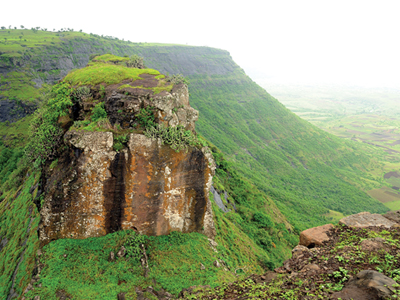 Kanhergad
---
Location Type
---
Hill Fort
Best season
---
All
Distance from nashik
---
62 K.M.
Trekking facts
---
Way:
From Kanherwadi
Time To Climb :
1 hours 30 mins/half day trek
Difficulty Level:
easy
Spread:
Medium
Water Availability:
Potable water available in the water tanks on top
Carry Along:
No special equipments
Guide:
Available at Kanherwadi. It is necessary.
How to reach
---
NASHIK to Kanhergad
Reach By Car:
Convenient by car. Rent a car facility available at Nashik. Private transportation / taxis / sharing vehicles available from Vani.
Reach By Bus:
24 hour buses available from Nashik to Vani. Change bus from there.
Reach By Train:
Nearest railway station is Nashik Road.
By Boat:
No boat route.
Facilities available

Accommodation

Food

Garage

Medical aid

Petrol Pump

Shelter

Souvenir
---
Location Details
---
During 1633 A.D. to 1637 A. D., the Nizams and the Baglans surrendered themselves to the Mughals and the region of Kanhergad became a part of the Mughal territory. In 1670A.D, when the Marathas were returning from Surat, attacked Kanhergad and won the fort. At that time, all the forts of this region were conquered and included in Swarajya under the guidance of Shivaji Maharaj. This fort stayed with the Marathas till 1687 A.D. and was then ruled by the Mughals till 1700 A.D. Later again it was conquered by the Marathas during the rule of Rani Tarabai. And fi nally in 1818 A. D., it was taken over by the British.
User Experience
---
The early morning sun is at its best when one starts the climb to Kanhergad. The complete region is covered with a green carpet of grass after the rainy season. Cattle, tractors and grains storage is seen everywhere in the base village. It is quite pleasant to see this scene which is so different from the regular cityscapes one sees. From the farmlands, one has to climb towards the left along the pathway. While climbing cautiously, one sees a bastion carved out of the rock. The top of the hill is small. There are around 8 to 9 water tanks in the ground. Towards the East is the Dhodap fort. There are two caves on the fort which are good to stay to make the trip adventurous. The South end of the top is a bit broader. It has a niche carved in it giving way for the trekkers.
Do Not Miss
---
• Carved puncture in the rock. • Caves on East side on the left side of the route. • West side narrow pathway (narrow edge of mountain). • South-East side Dhodap fort, South side Rawla-Jawla fort, South-West Markandya fort and Sapatshringigad. • View of Kalwan and Vani highways on North side.
Treks scheduled
Trek Date
No of people
Charges