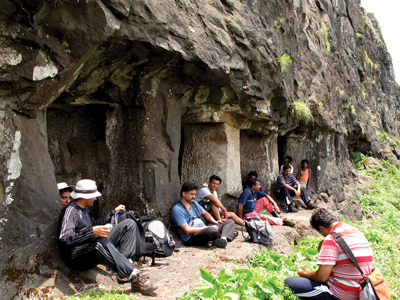 Rawla - Jawla Fort
---
Location Type
---
Hill Fort
Best season
---
All
Distance from nashik
---
56 K.M.
Trekking facts
---
Way:
From Babapur Khinda take South route to reach to the fort
Time To Climb :
3 to 4 hours/ full day trek
Difficulty Level:
medium
Spread:
Large
Water Availability:
Small lake (Ganga-Jamuna) between both the forts
Carry Along:
Rope is a must
Guide:
Available at Babapur village
How to reach
---
NASHIK to Rawla - Jawla Fort
Reach By Car:
Convenient by car. Rent a car facility available at Nashik. Private transportation available from Vani.
Reach By Bus:
Buses available from Nashik to Vani. Change bus from Vani to Babapur.
Reach By Train:
Trains availabe up to Nashik Road.
By Boat:
No boat route.
Facilities available

Accommodation

Food

Garage

Medical aid

Near By Places

Petrol Pump

Shelter

Souvenir
---
Location Details
---
After the decline of the Brahmin rule, this twin fort came under the Mughal kin gdom. The Nizams were very much keen on taking up this fort. They propeled the fort leader to surrender. In 1670 A.D., Shivaji Maharaj took the twin forts under his control. The battle between Marathas and the Mughals was on for the rule. Daler Khan surrounded the fort in order to gain it back to the Mughals. The Maratha warrior Moropant sent an army of 12,000 soliders in defense. with this Daler Khan had to step back with no other option left than to surrender. later in 1671 A.D., Mughal Sardar Mahabat Khan won this fort with great efforts and intelligence. After that these forts were taken over by the British with a lot of destruction caused to the forts.
User Experience
---
In the Sahyadri ranges, to the West of Dhodap fort and to the South of Markandya stand the twin fort of Rawla–Jawla. It takes time to reach the plateau area due to the slippery way up the fort. Looking behind, the Markandya top and the far right, is seen the Kanhergad if the skies are clear. From the plateau, the fort which is visible right in the front is the Jawla fort. While going through the pathway, there are some fruit bearing trees which gives one an adventure to actually climb the trees and grab the fruits. It takes an hour to reach Tiwarivasti. There are some remains of the structures, carved stones and a small lake like water body along. It is addressed as Ganga-Yamuna by the locals. The greenery around, pleases one's eye. There are caves scooped out in the rocks.Climbing the stone steps one reaches a tunnel on which are some inscriptions. Crossing this tunnel, one reaches the top to see the remains of old palaces, water tanks and caves.
Do Not Miss
---
• Remnants of entrance door. • Ganesh murti (idol) carved in stone. • Plinth remains of old structures at Rawla . • Tatbandi (fortification). • Caves on North and South at Jawla fort . • Rock cut steps leading towards entrance. • Plinths of structures and caves. • East side Dhodap fort. • North side view of Rawla fort from Jawla.
Treks scheduled
Trek Date
No of people
Charges