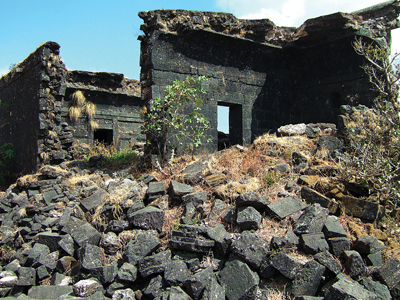 Dhodap Fort
---
Location Type
---
Hill Fort
Best season
---
All
Distance from nashik
---
70 K.M.
Trekking facts
---
Way:
1. Route from the North of Hattigaon 2. Route from South of Oturgaon (Kalwan route)
Time To Climb :
2 hours/full day trek
Difficulty Level:
easy
Spread:
Large
Water Availability:
Water tanks in the caves, available throughout the year
Carry Along:
Easy to reach the plateau. Special trekking equipments and expertise required to climb the peak
Guide:
Available at Hatti village and Oturgaon, it is a must
How to reach
---
NASHIK to Dhodap Fort
Reach By Car:
Taxis available, rent a car facility available from Nashik.
Reach By Bus:
Buses available from Nashik till Kalwan.
Reach By Train:
Nearest railway station is Nashik Road.
By Boat:
No boat route.
Facilities available

Accommodation

Food

Garage

Medical aid

Near By Places

Petrol Pump

Shelter

Souvenir
---
Location Details
---
During 850 A. D. to 1060 A. D. the Chandwad region and the Dhodap fort was ruled by the Yadav King Dhrudprahar. Chandwad was the capital (then known as handradityapur). The Khiljis conquered Dhodap and ruled here from 1312 A. D. to 1347 A. D. Then till 1487 A.D, this region was under the Brahmin rule. The Nizams conquered Dhodap and ruled it till 1637 A. D. The Nizam army could not fight against the huge army of the Mughals and so they lost the battle. History mentions the rule of the Peshwas over this region. The great ruler Raghobadada decided to revolt against Peshwas on the basis of this fort. But the Peshwas won and imprisoned Raghobadada in this very fort in 1778 A.D.
User Experience
---
The journey to the fort top from the base is through the sparse green patch of trees. Adding beauty are the structures made in a combination of dressed stone and brickwork. Both sides of the fort are flanked with strong bastions. To the right of the entrance gateway is a stone inscription. To the West is a pathway leafing to a temple of Lord Hanuman. After covering a small distance is a stepped well. To the left here is the temple of Lord Shankar and to the right is the temple of his son, Lord Ganesha. One has to reach the top climbing the rock cut steps. Remains of the historic architecture are seen here. Dhodap has pointed cliff and at its base is a cave which resembles the crescent of the moon. This is a peculiar character, by which one can identify the fort from a distance.
Do Not Miss
---
. Beautiful entrance door . Telhni Buruj (watch bastion) . inscriptions on stone slabs (Sheelalekh) . Ganesh temple on South side . Remains of tatbandi and buruj . Caves on East and South side . View of Rawla-Jawla Fort, Markandyagad fort, Sapatshringigad on West side . View of Ikhara peak, Kanchana, Koldher, Rajdher, Indrai forts on East side
Add Trek Review
vijaykumar pithiya
---
good innovative information
Treks scheduled
Trek Date
No of people
Charges