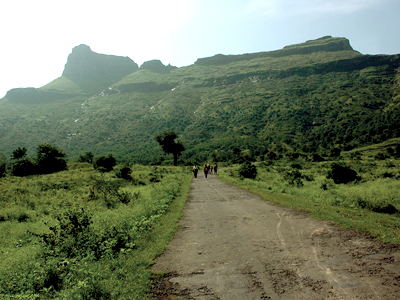 Kanchana Fort
---
Location Type
---
Hill Fort
Best season
---
All
Distance from nashik
---
65 K.M.
Trekking facts
---
Way:
From Kanchanwadi take South route, and also from Kheldari and Puri village
Time To Climb :
1 hour 30 min/ 1 day trek
Difficulty Level:
easy
Spread:
Medium
Water Availability:
Ample, caves on top of the fort
Carry Along:
No special equipments
Guide:
Available at Kanchanwadi. It is necessary
How to reach
---
NASHIK to Kanchana Fort
Reach By Car:
Convenient by car. Rent a car facility available at Nashik. Sharing vehicles from Vadalibhoi.
Reach By Bus:
Buses available from Nashik till Vadalibhoi, from there buses available ahead.
Reach By Train:
Trains availabe up to Nashik Road and Manmad.
By Boat:
No boat route.
Facilities available

Accommodation

Food

Garage

Medical aid

Near By Places

Petrol Pump

Shelter

Souvenir
---
Location Details
---
The Kanchana fort in is known for its rich mythological and historical background. The inscriptions on stone at Dhodap, which was won by the Mughal army chief Allahvardi Khan, addresses this fort as Kanchan–Manchan. Kanchana means gold in Marathi. The historical documents say, in 1670, when Chhatrapati Shivaji looted the city of Surat for the second time, he was chased by Mughal commander Daudkhan. The Maratha ruler secured all the loot by sending it to Kanchana fort along with 2000 soldiers and defeated Daudkhan. Few Mughal forts in the nearby area including Markandya, Rawla-Jawla, Ahivant and Triambakgad were also captured by the Maratha army in the same battle.
User Experience
---
Kanchana lies in the Satmala ranges and stands peacefully right in the center of it. It is convenient to climb this fort from either North or South. To the North of Kanchana is the base village Kanchanwadi. After starting the trek and reaching the midway comes a point from where one can identify two parts of the fort. To see the West side first, one has to walk towards the North keeping the rock wall to the left. There are ruins of the structures that can be seen.The view of the surrounding makes the effort of climbing worthwhile. Again reaching the midpoint, one has to see the Eastern part of the effort. There are carved caves right in front of the fort. It contains underground water tanks which are admirable. The top plateau spreads East-West and to the East corner is seen the pinnacle.
Do Not Miss
---
• Caves on top • Water tank in caves • Water tanks at the middle level • View of Indrai and Rajdher forts, on East side • Views of Dhodap, Rawla-Jawla, Markandya forts on West side • View of Kanchanwadi on North side
Add Trek Review
Gourang Ambulkar
---
There are several ways to reach this fort. One feom Kheldari route ( easiest but arguably the longest), one from the entry before Kanchanbari gorge ( khind) very boring route, and thw other from Kanchane village. This is a nice and stamina testing route. But as mentioned above Guide is absolutely necessary. Great trekking experience, especially when you scale the twin pinnacles.
Treks scheduled
Trek Date
No of people
Charges