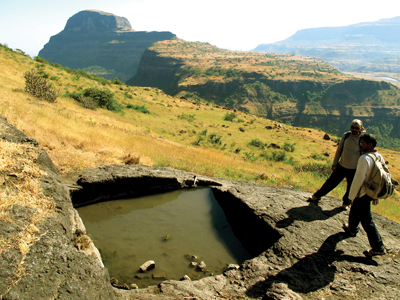 Koldhar Fort
---
Location Type
---
Hill Fort
Best season
---
All
Distance from nashik
---
70 K.M.
Trekking facts
---
Way:
Towards North from Tangdi
Time To Climb :
2.5 hours /full day trek
Difficulty Level:
medium
Spread:
Medium
Water Availability:
Available but not for drinking
Carry Along:
Climbing rope to reach the top
Guide:
Available at Tangdi
How to reach
---
NASHIK to Koldhar Fort
Reach By Car:
Rent a car available from Vadalibhoi and Chandwad.
Reach By Bus:
Available from Nashik to Vadalibhoi, buses and private vehicles available from there.
Reach By Train:
Train up to Manmad and Nashik Road.
By Boat:
No boat route.
Facilities available

Accommodation

Garage

Medical aid

Near By Places

Petrol Pump

Souvenir
---
Location Details
---
Koldhar has not witnessed any historical event by far. It must have been used to keep a watch on Rajdher and Indrai which were considered as important forts during those times. During Shivaji Maharaj's reign, this fort was under the Mughal control. In June 1663, Koldhar became a Mughal property during Nizam rule. Indrai, which is at the East of Koldhar bears inscriptions about this fort in the stone carvings. In 1818 A.D., when the British Empire conquered the seven forts of the Satmala ranges, Koldher was one of them.
User Experience
---
Koldhar, of the Ajanta Satmala ranges, springs high up to the clouds which states its importance in being used for keeping an eye around. There are not much remains of the fort on the hill top. But the view from the top is truly mesmerizing. Towards the East, are Rajdher, Indrai, Chandwad and towards the West are Dhodap, Markandya, Rawla – Jawla, Saptashrungi hill. The North – South spread of the land merges beautifully into the sky. There are caves and water cisterns on the top of the hill. The easy climbing makes this journey an easy going one. Though, the instruments for climbing and rappelling, along with an experienced trekker are required to reach the top of the pinnacle.
Do Not Miss
---
• Water tank on East side. • Caves on East side. • View of Rajdher, Indrai and Chandwad on East. • View of Dhodap, Markhandya, Rawla-Jawla on West. • View of Bhavadbari on South-West side.
Add Trek Review
Rahul jain
---
This trek is spectacular. Not very famous but worth the visit. Take guide along from Rajderwadi.
Treks scheduled
Trek Date
No of people
Charges