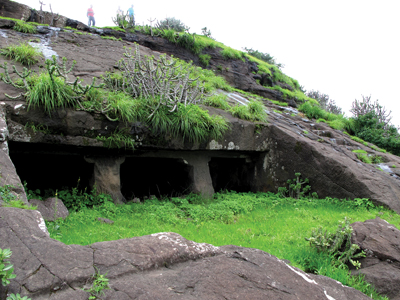 Indrai Fort
---
Location Type
---
Hill Fort
Best season
---
All
Distance from nashik
---
67 K.M.
Trekking facts
---
Way:
1) Take West route from Vadbhare-walk for half hour to reach the base 2) Climb from Radherwadi also
Time To Climb :
2 hours / full day trek
Difficulty Level:
medium
Spread:
Large
Water Availability:
Available on top
Carry Along:
No special equipments
Guide:
Take one Vadbhare village
How to reach
---
NASHIK to Indrai Fort
Reach By Car:
Convenient by car. Rent a car facility available from Nashik, Chandwad.
Reach By Bus:
Buses available to Chandwad from Nashik, Buses and private vehicles available from there.
Reach By Train:
Trains available up to Manmad and Nashik Road.
By Boat:
No boat route.
Facilities available

Accommodation

Food

Garage

Medical aid

Near By Places

Petrol Pump

Souvenir
---
Location Details
---
Indrai of the Satmala ranges has witnessed many events of history in the past. The land of Indrai is said to be pure with the touch of Ahilyabai Holkar's feet.
User Experience
---
In the ghats of Chandwad is the temple of Goddess Renuka where one should definitely wait and pray. Continuing the journey from here, one sees the tall mountain range on the left and the farmlands on the right. Due to insufficient rains the area lacks the freshness that can be expected here. Starting from the base village, one has to walk around 4-5 kms along the pathway. In the front is seen Indrai with its wide spread. At the foothills is the roofless temple of Lord Hanuman. The cave seen here has a water tank in it. One has to proceed by the rock cut steps seen ahead. The first entrance gateway is seen ahead. At the left are Farsi stone inscriptions. After traversing some distance one reaches the top of the fort. There are 5 caves seen here out of which one was used to store water. To the west, is prominently visible the mountain range in which stand Koldher, Kanchana, Bandya, Ikhara, Dhodap, Rawla-Jawla and Markandya. If the skies are clear, the complete range can be beautifully viewed from this point. There is a temple of Lord Shankar carved out of the rock. Coming ahead are intricately carved caves like the Buddhist viharas.
Do Not Miss
---
• Narrow stone steps to reach top. • Caves on left side containing potable water. • Stone inscripts in Farsi language. • Caves on top. • View of complete spread of Rajdher fort from North side. • View of Satmala range from East side. • Carved out narrow Mahadev temple on top. • Beautifully constructed lake in front of the temple. • 8-10 caves next to the lake.
Treks scheduled
Trek Date
No of people
Charges