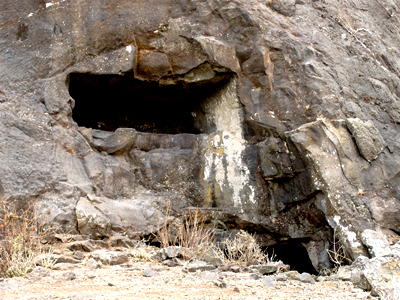 Chandwad fort
---
Location Type
---
Hill Fort
Best season
---
All
Distance from nashik
---
65 K.M.
Trekking facts
---
Way:
Reach Renuka temple: take South route to Chandreshwar temple
Time To Climb :
2 hours/ full day trek
Difficulty Level:
medium
Spread:
Medium
Water Availability:
Water tanks on top of fort. Water available till January. Carry water from Chandreshwar temple
Carry Along:
Climbing rope
Guide:
Not needed
How to reach
---
NASHIK to Chandwad fort
Reach By Car:
Rent a car facility available from Nashik.
Reach By Bus:
24 hour buses available from Nashik to Chandwad.
Reach By Train:
Nearest railway station is Manmad.
By Boat:
No boat route.
Facilities available

Accommodation

Food

Garage

Medical aid

Near By Places

Petrol Pump

Shelter

Souvenir
---
Location Details
---
This is the last fort in the Satmala ranges but, the best one to patrol around the complete region. To the West of the historic village of Chandwad lies the Chandwad fort. The first King of the Yadav family, King Drudhprahar Eastablished the village of Chandwad. Then, it was known as Chandradityapur. As times passed, the Yadavs shifted their administrative base at Sinnar and then, to Daulatabad. On 14th March, 1636 A.D., the Mughals conquered the fort from the Nizams. Chhatrapati Shivaji Maharaj attacked the fort but, he was unsuccessful with conquering it. He had to step behind after plundering the village.
User Experience
---
King Chandrahas of the Yadavas built a temple of Chandrashekhar on the Chandwad fort. It still stands strong irrespective of the time that has passed. Besides the temple, there are ruins of the palace which belonged to King Chandrahas. There is a temple of Goddess Renuka at the foothills. It was built during the times of Ahilyabai Holkar. Towards the South of this temple is the Chandwad fort. On the way, there is a diffi cult patch of 20-25 feet which needs to be climbed with proper instruments and techniques. To the North are Indrai and Rajdher fort. To the West is the beautiful view of the Chandwad village. Since there are very less trees in the region it is preferable to visit Chandwad immediately after the monsoons so that the complete area is covered with greenery. There are ruins of the historical monuments here. The historic wealth is not so well preserved.
Do Not Miss
---
• Renuka Devi temple on North side. • Chandreshwar temple on North side. • Ruins of buruj and tatbandi on North side. • Plateu. • View of Satmala range on West side. • View of Chandwad town. • View of Rangmahal in Chandwad town on West side.
Treks scheduled
Trek Date
No of people
Charges