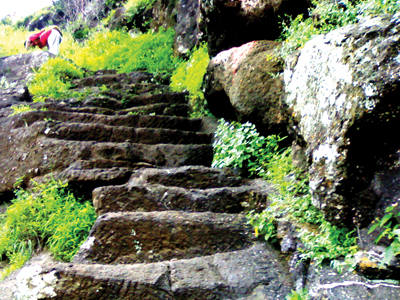 Premgiri fort
---
Location Type
---
Hill Fort
Best season
---
All
Distance from nashik
---
77 K.M.
Trekking facts
---
Way:
From Hinguvadi take left to reach the fort
Time To Climb :
1 hours 30 mins/ half day trek
Difficulty Level:
easy
Spread:
Small
Water Availability:
Ample, near hanuman temple in tanks
Carry Along:
No special equipments
Guide:
Available in Hingulwadi.
How to reach
---
NASHIK to Premgiri fort
Reach By Car:
Convenient by car. Rent a car facility available at Nashik. Sharing vehicles available from Kalwan and Abhona.
Reach By Bus:
Buses available from Nashik till Kalwan. Change bus from there for Hingulvadi (less frequency).
Reach By Train:
Trains available up to Nashik Road.
By Boat:
No boat route.
Facilities available

Accommodation

Food

Garage

Medical aid

Near By Places

Petrol Pump

Souvenir
---
Location Details
---
This is quite easy and enjoyable trek which hardly takes 4 hours. In the Selbari ranges, near the Chankapur dam, Premgiri has maintained its stand since ages. There has been no movement of the army in the region of Premgiri. It has not witnessed any battle or an historic event which could place it in the map of history.
User Experience
---
While starting towards Premgiri , one sees a temple of Lord Hanuman which has a clean complex.The pathways here are quiet prominent which shows that the foot counts on this route are quiet high.From here, the stone steps carved out in the rocks lead to the top the fort.There are two water tanks scooped out in the rock.One of them is named Ram Kund and the other is named Sita Kund.It is a belief that,during their exile to the forest, Lord Ram and his wife,Sita had visited this place.There is a small temple of Lord Hanuman on the top too.The historic remains of the structure are clearly visible here.The forest department has undertaken the plantation of trees here recently.To the west of Premgiri lies the Kothya mountain.Towards te northeast are the river basin of Punad river and the fort of Chaulher.The Saatmala range are seen to the south.To the southwest are the Karhala mountain and the river Girna.
Do Not Miss
---
•Hanuman Temple •Rock cut water tanks ram kund and sita kund •Remnants of historical structure of Hillock •View of Kothya and Indramal dongar on west side •View of Dhodap and Kanehragad forts on the south side •Karahlya dongar and Kalvan town on the south east side •Hatgad fort and Hatodya dongar on north
Treks scheduled
Trek Date
No of people
Charges