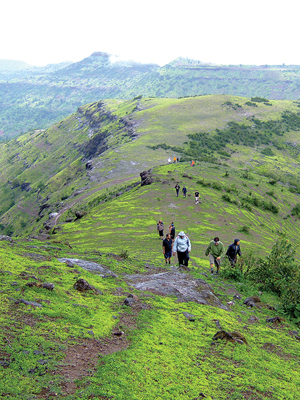 Waghera Fort
---
Location Type
---
Hill Fort
Best season
---
All
Distance from nashik
---
54 K.M.
Trekking facts
---
Way:
From the dam close to Waghera village
Time To Climb :
2 to 3 hours / half day trek
Difficulty Level:
easy
Spread:
Medium
Water Availability:
Yes, spring near mahadev temple on top
Carry Along:
No specific equipments
Guide:
Available at Waghera village
How to reach
---
NASHIK to Waghera Fort
Reach By Car:
Rent a car facility available at Trimbakeshwar and Nashik. Private vehicles are convenient.
Reach By Bus:
Buses and tourist vehicles available from Nashik and Trimbakeshwar till Waghera.
Reach By Train:
Trains available up to Nashik Road.
By Boat:
No boat route.
Facilities available

Accommodation

Food

Garage

Medical aid

Near By Places

Petrol Pump

Souvenir
---
Location Details
---
The references of Waghera in the pages of history are none. The location of Waghera is strategic being close to Nashik and Trimbak. It is assumed that it was used to control the movements of the surrounding forts. Waghera and Khairai both were important forts from the patrolling point of view. Waghera was conquered by the British in 1818 A.D. from the Marathas. The entrance gateways, main fort, fortication wall, bastions and water tanks were destroyed by the British in the third battle of the British and the Marathas.
User Experience
---
There are some mountains in the Sahyadri range which do not follow the continuity of the range. Waghera is one such fort which stand quite away from the other forts in the range. This is the last fort towards the North-West in the Trimbak region. To the far North is Hatgad. Behind the fort, spread wide is the calm and serence blues of the Waghera Dam. Water tanks carved out of rock are seen. Reaching the top, one can see a tiny temple of Lord Shankar with the roof of the vast spread sky. As one climbs up the fort, the remains of the fortifcation and bastions are seen very clearly. The top of this fort is triangular and this makes it easily recognizable from the nearby Khairai fort. To the East can be seen the remains of the fort.
Do Not Miss
---
• Remains of fortifcation (Tatbandi) and bastion (buruj) on South side. • Open to sky Shiv Ling on top : West side. • Water tank : water available throughout the year. • Rock cut Caves.
Add Trek Review
Nitinkumar Mundaware
---
Small but very thrilling trek. Everyone will enjoy this trek specially during rainy season
Treks scheduled
Trek Date
No of people
Charges