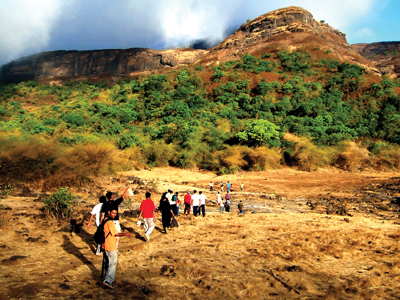 Utwad hill
---
Location Type
---
Hill Fort
Best season
---
All
Distance from nashik
---
48 K.M.
Trekking facts
---
Way:
Straight from Nirgudpada to Fani shikhar khind – take left through thick forest for a trail on West side – straight ahead for a Y: junction – take straight route to reach utwad.
Time To Climb :
3 hours / Full day trek
Difficulty Level:
easy
Spread:
Large
Water Availability:
Not available
Carry Along:
No special equipments
Guide:
Available at Nirgudpada or Sherichapada.
How to reach
---
NASHIK to Utwad hill
Reach By Car:
Convenient by car. Taxis, auto sharing vehicles available from Nashik city.
Reach By Bus:
Buses available from Nashik till Trimbak, buses and tourist vehicles available ahead.
Reach By Train:
Trains availabe up to Nashik Road.
By Boat:
No boat route.
Facilities available

Accommodation

Food

Garage

Medical aid

Near By Places

Petrol Pump

Souvenir
---
Location Details
---
Utwad is not a hill fort, but a peak. It has not witnessed any historical event as such in the past and so has no historical evidence in the pages in the history.
User Experience
---
One has to cross the spurs of Basgad in orderto reach Utwad. This is the last place where one can get water, as it is not available at Utwad. The way goes up amidst the trees. Climbing this patch, one comes to a small plateau where a flag has been marked by some of the earlier trekker. The villagers often come here for wood cutting.A large amount of bamboo is seen here in the jungle. The hill is visible in three parts fromhere. The middle part with the highest peak is Utwad. One has to proceed towards the top from the way which goes adjoining the left part. Utwad is a triangular shaped mountain. After reaching the fl ag seen here, one has to climb up from the way towards the right which is quite prominently seen. It is a tiring climb being devoid of trees. After reaching the second plateau, Basgad and Utwad can be clearly seen from here. A small pinnacle of Utwad is clearly seen. If the skies are clear without clouds, one can see the blue line of the ocean at Dahanu. Jawhar is also visible from the top along with the portions of Vaitarna dam. The pinnacle of Fani is also beautifully visible from Utwad.
Do Not Miss
---
• One must go up to the top of the peak, a life time experience. • East side view of Fani dongar (hill), Harihargad, Brahma Dongar and Bramhagiri. • South side view of Bhaskargad fort. • South-East view of Vaitarna dam. • North side view of Shericha Pada village, Jawhar - Trimbak road . • North-West view of Waghera fort.
Add Trek Review
Nitinkumar Mundaware
---
Awesome trek
Treks scheduled
Trek Date
No of people
Charges