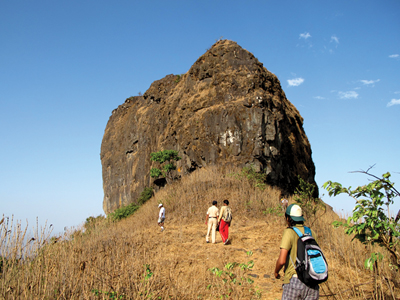 Bhaskargad /Basgad
---
Location Type
---
Forest Fort
Best season
---
All
Distance from nashik
---
48 K.M.
Trekking facts
---
Way:
Towards left from Bhaskargad - Fani valley
Time To Climb :
2 hours / Half day trek
Difficulty Level:
medium
Spread:
Medium
Water Availability:
Not available
Carry Along:
No special equipments
Guide:
Available at Nirgudpada, is a must
How to reach
---
NASHIK to Bhaskargad /Basgad
Reach By Car:
Convenient by private vehicles. Rent a car facility from Nashik.
Reach By Bus:
Buses available from Nashik till Trimbak. Buses and tourist vehicles available ahead.
Reach By Train:
Trains available up to Nashik Road.
By Boat:
No boat route.
Facilities available

Accommodation

Food

Garage

Medical aid

Near By Places

Petrol Pump

Souvenir
---
Location Details
---
In 1689 A.D., after the reign of Chhatrapati Shivaji Maharaj, the Mughal sardar Matabar Khan won the fort of Bhaskargad from the Marathas. With this victory, the fort Harihar also became a part of the Mughal kingdom. Before the Mughal victory, the complete region was ruled by the Marathas.History does not speak much about this fort.
User Experience
---
To the west in Trimbak range stands Bhaskargad with its strong stable base.The way from the east, i.e. from the dense vegetation is one which gives best of the experience.Towards the right along the route one sees Fani pinnacle .From here, it takes an hour to reach a plateau.The way to the left takes one to Bhaskargad.The adventure lies in searching the route through the dense vegetation.On the way,towards the right are the caves.Crossing them, one has to climb towards the left.A grand entrance way welcomes all leading to the stone carved steps.After reaching the top, one can see the beautiful view of Utwad towards the north.There are no remains of construction on the top.A small dam is visible towards the west.One can traverse till here and return to the base village.
Do Not Miss
---
•Caves on top •Grand entrance road-archway on the north side •Stone carved steps •View of a small dam on the west side •View of Utwad peak towards north side
Add Trek Review
Bhagwat
---
very best trek, thanks for app
Nitinkumar mundaware
---
It is very nice trek , its really adventure in searching the route through dense vegetation.
Gourang Ambulkar
---
Great trek. Make sure to see the 3 square rock cut caves and a very deep rock cut cistern.
Treks scheduled
Trek Date
No of people
Charges