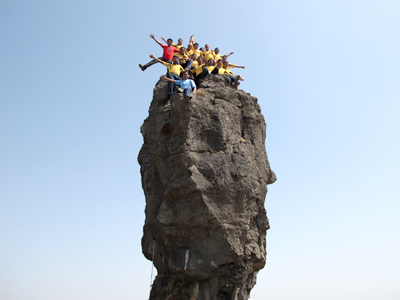 Fani hill
---
Location Type
---
Hill Fort
Best season
---
All
Distance from nashik
---
48 K.M.
Trekking facts
---
Way:
An easy climb from Nirgudpada village from the North side
Time To Climb :
1hour 30 mins/ half day trek
Difficulty Level:
medium
Spread:
Medium
Water Availability:
No water available
Carry Along:
Climbing rope, to reach the top of the peak experienced climber and specialized trekking equipments required.
Guide:
Available at Nirgudpada
How to reach
---
NASHIK to Fani hill
Reach By Car:
Convenient by car. Taxis, auto sharing vehicles available from Nashik city.
Reach By Bus:
Buses available from Nashik till Trimbak, buses and tourist vehicles available ahead.
Reach By Train:
Nearest railway station is Nashik Road.
By Boat:
No boat route.
Facilities available

Accommodation

Food

Garage

Medical aid

Near By Places

Petrol Pump

Souvenir
---
Location Details
---
Fani is not a fort and so it does not have any references in the past. Nor has it witnessed any battle neither it has been an important peak in any event. The word 'Fani' in Marathi means a serpent's hood which has been derived from its form.
User Experience
---
The Trimbakeshwar range of Sahyadris is famous for the trekkers and photographers. This range is extremely beautiful and generates interest in everyone's mind. Fani is a small triangular mountain sharing a common col with Bhasgad.Fani is not a fort but still very attractive. For reaching the top of this pinnacle,one needs expertise in rock climbing.Here comes the thrill of climbing and rappelling.Trekkers are overwhelmed by the challenging climb but someone who is not so used may feel scared. There are no water tanks or any arrangement for stay here because it was never inhabited in the past.The view one sees from this pinnacle is breathtaking.Reaching this point is an achievement in itself. Towards the east lies Harihar fort, towards the west lie Bhaskargad and Utwad.Towards the south,at a distance, one can see the back waters of Vaiterna dam.A beautiful landscape spreads north south.It is a paradise for photographers.This is a wonderful trek for monsoons which takes just half a day.
Do Not Miss
---
•East side view of Harihar fort •West side view of Bhaskargad fort and Utwad peak •South side view of Vaiterna dam back waters •North side view of massive stretch of beautiful landscapes
Treks scheduled
Trek Date
No of people
Charges