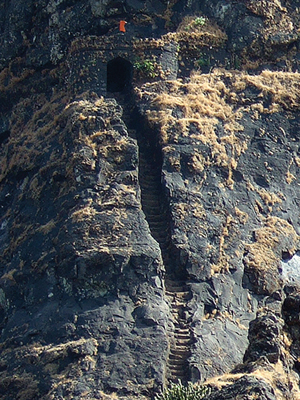 Harihargad / Harshgad
---
Location Type
---
Hill Fort
Best season
---
All
Distance from nashik
---
48 K.M.
Trekking facts
---
Way:
1) From Jambhulpada, towards the North 2) Towards North of Bramhagiri, from the valley joining Bramhagiri and Harihar
Time To Climb :
1) Approximately 2 hours via Nirgudpada. 2) About 1 hour via Harshewadi/ half day trek
Difficulty Level:
medium
Spread:
Medium
Water Availability:
The cisterns on top provide perennial source of water.
Carry Along:
No special equipments.
Guide:
Available at Nirgudpada, it is a must.
How to reach
---
NASHIK to Harihargad / Harshgad
Reach By Car:
Convenient by car. Rent a car facility available at Nashik and Trimbakeshwar.
Reach By Bus:
Buses from Nashik to Trimbakeshwar. From there Buses to Nirgudpada.
Reach By Train:
Trains available up to Nashik Road.
By Boat:
No boat route.
Facilities available

Accommodation

Food

Garage

Medical aid

Near By Places

Petrol Pump

Shelter

Souvenir
---
Location Details
---
The fort of Harihar, lying on Trimbak range, was of significant importance in earlier periods, as there used to be a route crossing this range connecting Maharashtra to Gujarat. The fort appears to be rectangular in shape from its base village. One of the faces facing Nirgudpada is called 'Scottish kada', perhaps because it was climbed for the first time in November 1986 by Doug Scott, a British mountaineer. It took him 2 days to climb the cliff. Looking at the cliff from any angle gives one a gulp down the throat.
User Experience
---
This fort is built on a triangular prism of rock. Its three faces and two edges are absolutely vertical (90 degrees). The third edge towards the West is inclined at an angle of 75 degrees. A one meter wide rocky staircase with niches in it is carved out for ascending/descending the fort. A unique construction indeed! There are 117 steps in all. A bit of easy rock:climbing is required to be done without equipment.The fort has got a tapering plateau with a raised level in the middle. One secret – door is located at the edge of this fort, but the way to this door has now got blocked. There is a small temple of Lord Hanumana and Lord Shiva on the plateau. A small pond is there in front of this temple. There are five cisterns along one side of the palace. The view from the top is very exciting. One can see Waghera in the North, Tringalwadi, Kavnai and Upper Vaitarna lake in the South, Brahma, Kapda and Brahmagiri in the East, and Fani, Basgad and Utwad in the west.
Do Not Miss
---
• A small temple and a cave with water on top • Balle Fort (Sitaladevi) on top. • North side view Brahma and East side view Brahmagiri. • West side view fani dongar and Basgad Fort and Utwad. • North side Ganesh lake and temple at middle level.
Add Trek Review
Nitinkumar Mundaware
---
Its really thrilling experience. It looks impossible to climb but steps are good and there is grip on every step so it makes much comfortable.
Gourang Ambulkar
---
Phenomenal trek!! Must do for all avid trekkers.
Treks scheduled
Trek Date
No of people
Charges