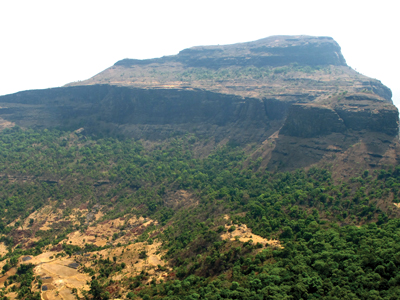 Brahma peak
---
Location Type
---
Hill Fort
Best season
---
All
Distance from nashik
---
32 K.M.
Trekking facts
---
Way:
Walk 1 km towards West and take left
Time To Climb :
1 and 1/2 hours/half day trek
Difficulty Level:
easy
Spread:
Large
Water Availability:
Not available
Carry Along:
No special equipments
Guide:
Available at Kachurli, it is a must.
How to reach
---
NASHIK to Brahma peak
Reach By Car:
Convenient by car. Rent a car facility available at Nashik and Trimbakeshwar
Reach By Bus:
Buses form Nashik to Trimbakeshwar. From there Buses to Kachurli.
Reach By Train:
Trains available up to Nashik Road.
By Boat:
No boat route.
Facilities available

Accommodation

Food

Garage

Medical aid

Near By Places

Petrol Pump

Souvenir
---
Location Details
---
Bramha peak has not witnessed any event in the past which proved it of historical importance. One won't find any information related to the peak in any of the historic records.
User Experience
---
On the way to Kachurli towards Bramha, is a temple of the Goddess which can be visited. Adjoining the temple, comes a spur of a mountain running right up to it. One has to start the climb right from this spur. Since the inclination is not much, one does not get tired reaching on the top.From here,the wide spread Brahmagiri is entirely visible in the panorama of one's eye.From this point a pathway is seen proceeding towards haphazardly spread huge mountain known as Brahma.A few Georges of Brahma peak are seen out of which the one at the right takes one to the top.After reaching a plateau the landscape that is seen from here is unbelievably beautiful.One can go to the top from this plateau or also go towards the end from where Harihar is visible.There is one small hill at this end which is seperated from the rest of the mountain.It has a temple of Goddess Brahma.The view of the Harihar like huge ship,the dense jungle at th foothills,the Fani pinnacle and Basgad-Utwad, complete range is visible from this point.The scenic point is visible all around Brahma.
Do Not Miss
---
•Massive Harihar view on south west side •West side view of Bhaskargad and Utwad •East side view of Brahmagiri •Beautiful Kachurli village view on the north east side
Treks scheduled
Trek Date
No of people
Charges