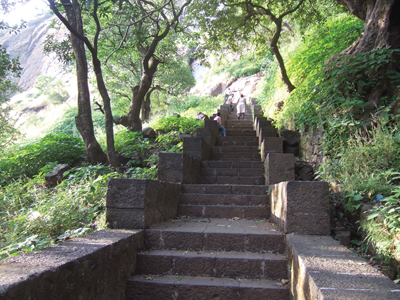 Brahmagiri Fort
---
Location Type
---
Hill Fort
Best season
---
All
Distance from nashik
---
26 K.M.
Trekking facts
---
Way:
From Trimbak, towards West
Time To Climb :
2 hours / Half day trek
Difficulty Level:
easy
Spread:
Medium
Water Availability:
Ample
Carry Along:
No special equipments
Guide:
Available at Trimbak
How to reach
---
NASHIK to Brahmagiri Fort
Reach By Car:
Convenient by private vehicles. Rent a car facility also available in Nashik.
Reach By Bus:
Buses are available for trimbakeshwar from old CBS Nashik.
Reach By Train:
Trains available up to Nashik Road.
By Boat:
No boat route.
Facilities available

Accommodation

Food

Garage

Medical aid

Near By Places

Petrol Pump

Souvenir
---
Location Details
---
Bramhagiri is where the river Godavari originates from. The firrst peak of Sahyadri is called Bramhagri. The story associated with this is that Shankar was pleased with Bramhadev and said I shall be known by your name. Hence it is called as Bramhagiri. The references of Bramhagiri in history are since the times of the Yadavas. In 1629, Shahaji Maharaj conquered Bramhagiri. In 1636, it was passed on to the Mughals. After defeating Daud Khan, Shivaji Maharaj conquered the territory. At that time Moropant Pingle included Bramhagiri and Trimbak into the kingdom (Swarajya). In 1818, while conquering the Maratha kingdom, the Britishers had to accept defeat after a tough battle.
User Experience
---
Trimbakeshwar, the base village, has a temple which is perched on the picturesque lusting green Bramhagiri hill. This place is considered as one of the holiest places in Southern India. The Hemadpanti architecture and the distinct ambience of the temple are very serene.From here, the way up to the fort is very well paved and stone stepped. The path trails to the right leading to the Gangadwar. The route winds up and further ahead, rock cut steps following through a gully in the belly of Bramhagiri awaits the visitors. The steps are well defined, steeper as one climbs further. An easy ascent over these brings the beautiful stone carved entrance of Bramhagiri. The entrance is distinct in itself and wonderfully hidden in the overlaps of the Bramhagiri massif. Further ahead, the steps lead us to the top of the plateau. The top is a vast expanse with 3 humps on the Bramhagiri massif. The temple on the left is believed to be the place where Lord Shankar had used his 'Jataa' to form a source/Ugamsthan. On the right is the oldest structure on the fort; the origin of Godavari river, Godateerth. Reaching to the top most point on Bramhagiri extension on the right, offers an amazing sight of the fort and the Suplichimate and Alnipada villages below.
Do Not Miss
---
• Shiv temple on West side. • Starting point of Godavari river. • Beautiful View of talegaon dam, harihargad, Brahma on West side. • East side scenic view of Trimbakeshwar village and temple. • View of Swami Samarth temple.
Add Trek Review
Ashish kataria
---
https://youtu.be/9WsF2dqXpMM this is a drone video i clicked during monsoon at vinayak khind.
Treks scheduled
Trek Date
No of people
Charges