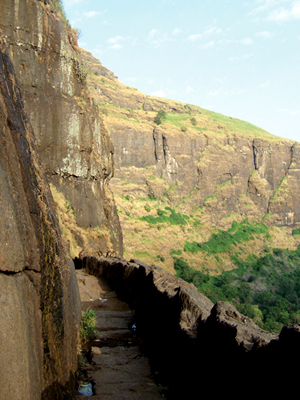 Durg bhandar
---
Location Type
---
Hill Fort
Best season
---
All
Distance from nashik
---
26 K.M.
Trekking facts
---
Way:
Take foot road from the backside of Shankar temple on West side of Bramhagiri.
Time To Climb :
2 hour 30 min/half day
Difficulty Level:
medium
Spread:
Small
Water Availability:
Water spring availabe at Bramhagiri.
Carry Along:
Torch (light source)
Guide:
Take one from Trimbakeshwar, guide is necessary.
How to reach
---
NASHIK to Durg bhandar
Reach By Car:
Sharing vehicles and rent a car facility available at Nashik up to Trimbakeshwar.
Reach By Bus:
Ample of buses available from Nashik to Trimbakeshwar from Nashik old bus stand.
Reach By Train:
Nearest railway station is Nashik Road.
By Boat:
No boat route.
Facilities available

Accommodation

Food

Garage

Medical aid

Near By Places

Petrol Pump

Souvenir
---
Location Details
---
In 1752 A.D., Trimbak Suryaji Prabhu conquered the fort of Durg Bhandar and included it in the Peshwa kingdom. In 1818 A.D., the British took over the fort.Durg Bhandar is a part of the Bramhagiri fort but has gained its own identity. It is said that Durg Bhandar was used as a storage place for the arms and ammunitions required for the protection of Bramhagiri.
User Experience
---
The entrance door of the fort is partly buried under the ground so one has to bend down while entering in. The treks in the Trimbak region are always exhilarating. The temple which grabs attention towards the West after reaching Bramhagiri is Durg Bhandar. While going there to the left, are seen Bramha and Harihar forts. To the North, near Bramha is the Talegaon dam which is clearly visible from the height. There is a deep valley to the left so one has to be careful while crossing the way. It takes half an hour from here to reach the water tanks. To the East is the view of the holy place of Trimbakeshwar. In the front can be seen the pinnacles of Navra-Navri and the fort of Anjeneri . Descending towards the North are seen steps scooped out in a huge rock. There is a small narrow way ahead where one has to bend down and traverse the distance of 15-20 feet. It is a thrilling experience. Then one has to cross over from the wall which is almost 200 feet. After reaching here one can see the entrance gateway. After reaching the top, remains of the historic structures are seen. The bastion to the North is like an exclusive viewing tower.
Do Not Miss
---
• Shankar temple at Bramhagiri. • View of Trimbakeshwar village. • Buruj at North side of Durg Bhandar fort. • Beautiful view of Talegaon dam on the west. • View of Harihar fort and Brahma peak.
Add Trek Review
Dr Raorane Udaysinh
---
Thanks for the information. Only i want to add is Both the Entrance doors are now cleaned from debris.The trails is good little scree is there .
shivam,aditya
---
it is very riskey fort,sometime seen tiger and leapord on this fort,very monkey are stay in this fort and its very dangerous for us ,danger for couple
Treks scheduled
Trek Date
No of people
Charges