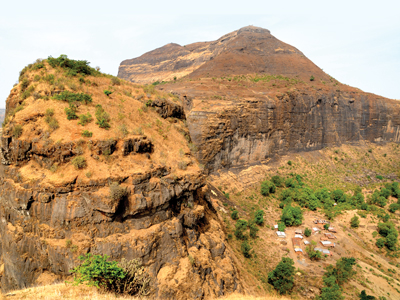 Kaarvi Hill
---
Location Type
---
Hill Fort
Best season
---
All
Distance from nashik
---
26 K.M.
Trekking facts
---
Way:
1) Climb from West side of Pegalwadi to Reach Patharwadi - easy way ahead for Kaarvi 2) From South side of Trimbakeshwar reach Vinayak khind, route ahead to Kaarvi
Time To Climb :
2 hours / half day trek
Difficulty Level:
easy
Spread:
Small
Water Availability:
Not available
Carry Along:
Special equipments required. rope is a must.
Guide:
Take one from Patharwadi.
How to reach
---
NASHIK to Kaarvi Hill
Reach By Car:
Convenient by car. Rent a car facility available at Nashik. Sharing vehicles available up to Vani and from there up to the base village.
Reach By Bus:
Buses available from Nashik to Trimbakeshwar and Sharing vehicles available ahead.
Reach By Train:
Trains availabe up to Nashik Road.
By Boat:
No boat route.
Facilities available

Accommodation

Food

Garage

Medical aid

Near By Places

Petrol Pump

Souvenir
---
Location Details
---
There is no reference of the Kaarvi fort in the pages of history. It seems like no battles have been fought and no events have been marked by Kaarvi.
User Experience
---
In the laps of Sahyadri are many hills and forts which with time have somehow lost its importance and very few people know about them. One such fort is Kaarvi. Except for a few water tanks and the rock cut steps for the access, there are no remains of the historic construction as such on this fort. fort. Kaarvi can be accessed from the route along the government rest house.Towards the right is clearly seen Brahmagiri.And towards the left what grabs attention are the Koldha-Moldha pinnacles.The pathway is covered with vegetation and the way is quiet easy to climb.One reaches the col between Talai and Kaarvi.The rock cut steps towards the left takes one to Kaarvi while the one at the right lead to Talai.The steps are very steep and tall so it becomes quiet difficult to climb.It is suggested that one carries rope of approximate 100 ft. length. To the south are the hills of Sasera and Athava.Upper Vaitarna dam and Mukhane dam are visible from here. The entire Trimbak range is seen from the top of Kaarvi.The Trimbak village is beautifully visible from the North West.Towards the east is the view of Talai hill.It also gives a pleasant view of the Ghoti-Igatpuri hill.
Do Not Miss
---
•East side view of Talai hill. •View of Brahmagiri range on the west side •View of Trimbakeshwar village on the north side •View of roadway towards Igatpuri and Ghoti
Treks scheduled
Trek Date
No of people
Charges