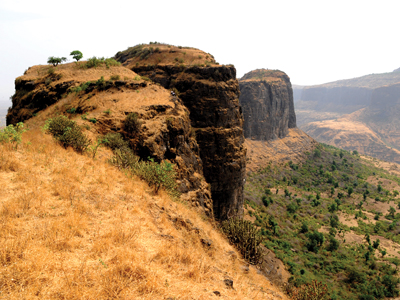 Talai hill
---
Location Type
---
Hill Fort
Best season
---
All
Distance from nashik
---
26 K.M.
Trekking facts
---
Way:
Towards West side
Time To Climb :
2 hours / Half day trek
Difficulty Level:
easy
Spread:
Medium
Water Availability:
No
Carry Along:
No special equipments
Guide:
Take one from Pegalwadi. It is must
How to reach
---
NASHIK to Talai hill
Reach By Car:
Convenient by car. Rent a car facility available at Nashik. Sharing vehicles available up to Vani and from there up to the base village
Reach By Bus:
Buses available from Nashik to Trimbakeshwar and Sharing vehicles available ahead
Reach By Train:
Trains available up to Nashik Road
By Boat:
No boat route.
Facilities available

Accommodation

Food

Garage

Medical aid

Near By Places

Petrol Pump

Souvenir
---
Location Details
---
Talai is not a fort but a hill so it does not have any reference in the pages of history. No battles witnessed or fought.
User Experience
---
Talai is a small hill that lies in the Trimbakeshwar range. On the way to Trimbak, the pinnacle which attracts the viewer just before Manya towards the left is Talai. The Nashik – Trimbak route is a beautiful track for long drives, be it in a four wheeler or on a two wheeler. Starting fromt the base village ,to the left is seen the Kodhalya Modhalya pinnacles.It takes half an hour to reach the base of Talai. There is sparse vegetation in the region. Towards the west of Talai is the fort of Kaarvi. Talai is accessed from the common col of Kaarvi. Transversing small patches one reaches the top from the east.There are no trees or water on the top. top. The huge Brahmagiri hill is just next to it.So small is Talai that it seems to be a part or an extension of Brahmagir.It is only seperated by a valley in between.Anjaneri is to its east.When the skies are clear, the entire Trimbak range is visible from here including DurgaBhandar, Harihar ,Fanya, Utwad, Bhaskargad, Brahma and Brahmagiri.
Do Not Miss
---
•Complete view of Trimbak range and Trimbakeshwar village on north side •View of Kaarvi fort and Brahmagiri on west side •East side view of Anjneeri •Breathtaking view of Vaitarna dam on south side
Treks scheduled
Trek Date
No of people
Charges