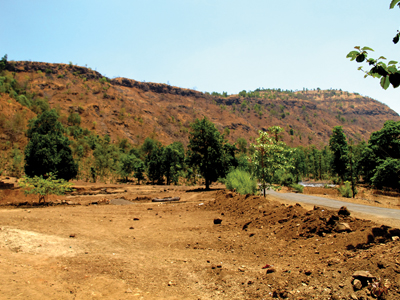 Songiri fort
---
Location Type
---
Hill Fort
Best season
---
All
Distance from nashik
---
56 K.M.
Trekking facts
---
Way:
From Bhuvan village take East side route
Time To Climb :
1 hours / half day trek
Difficulty Level:
easy
Spread:
Small
Water Availability:
Available, water tanks on West side
Carry Along:
No special equipments
Guide:
Take one from Bhuvan
How to reach
---
NASHIK to Songiri fort
Reach By Car:
Convenient by car. Rent a car facility available at Nashik.
Reach By Bus:
Buses available from Nashik till Peth. Change transportation from there to Bhuvan.
Reach By Train:
Trains available up to Nashik Road.
By Boat:
No boat route.
Facilities available

Accommodation

Food

Garage

Medical aid

Near By Places

Petrol Pump

Shelter

Souvenir
---
Location Details
---
There is no reference of Songiri in the pages of history. It has not witnessed any historic event in the past. Songiri might have been used to keep a track on the movements in the adjoining areas.
User Experience
---
The forts in the North-West region of Nashik are so located that many trekkers or wanderers don't generally visit these places. The region though, is densely covered with beautiful forests and the roads are very ideal location for long drives. The serpentine roads with farmlands on both sides give a very pleasing view. During and after the rains, the complete region looks fresh green with streams of water running through it. Thinking about a fort, one imagines it with the entrance gateways, fortifi cations and bastions. But this fort has none of it. While climbing the pathway, there are farmlands along the hill slopes. Dense vegetation of a variety of fruit bearing trees along the route makes the climb more interesting. There are two big trees of Umbar (Marathi name) on the top where a statue of Goddess was located. But it is now shifted into the village. Towards the South are river Damanganga and Waghera fort. To the West on the top are water tanks carved out in the rocks. To the North-East is seen a series of lose stones which might have been the fortifi cation wall in the past. There is a small lake towards the west.
Do Not Miss
---
• Water tank on top • North-West side remains of tatbandi • West side Mango tree and a water tank nearby. • South side view of Damanganga river and Waghera fort. • South-West side view of Khairai fort.
Treks scheduled
Trek Date
No of people
Charges