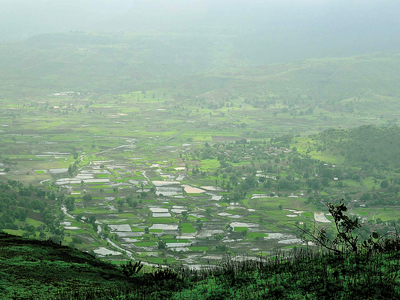 Anjeneri Fort
---
Location Type
---
Hill Fort
Best season
---
All
Distance from nashik
---
21 K.M.
Trekking facts
---
Way:
Easy way from Anjeneri village. Routes also available on Trimbak road via Talvadeghal, left side of Mulegaon, West side of Pahine village.
Time To Climb :
1 hour 30 mins/ 1 day trek
Difficulty Level:
easy
Spread:
Large
Water Availability:
Ample
Carry Along:
No special equipments
Guide:
Available in Anjeneri village. It is necessary.
How to reach
---
NASHIK to Anjeneri Fort
Reach By Car:
Convenient by car. Rent a car facility available at Nashik. Sharing vehicles, taxis and autos available from Nashik.
Reach By Bus:
Take Bus from Nashik for Trimbakeshwar, get down at Anjeneri phata
Reach By Train:
Train available up to Nashik Road
By Boat:
No boat route.
Facilities available

Accommodation

Food

Garage

Medical aid

Near By Places

Petrol Pump

Shelter

Souvenir
---
Location Details
---
Anjeneri is a beautiful village with lot of significance in history and mythology, being the birthplace of Lord 'Hanuman'. Lord Hanuman was the son of 'Pawan' (the wind) and 'Anjani', and hence the fort is called as 'Anjeneri '. Anjeneri is one of the important forts in the ranges of Trimbakeshwar near Nashik. In 1672 A.D., the Marathas captured the Trimbak fort and during the same period, Anjeneri became a part of Swarajya. Later, after 1750 A.D., it was under the control of the Nizams. The spread of Anjeneri is quite huge with number of ways to climb to the top.
User Experience
---
Anjeneri is a huge grass topped mountain. It has a small lake on the top. A British officer had built a bungalow nearby, the ruins of which can be still seen. There are many well preserved ruins and temples near the village. The fort is behind the village and it is quite easy to climb. There is a small Hanuman temple at the top of this mountain. There are religious gatherings on a huge scale here during Hanuman Jayanti. There is a continuous fl ow of the devotees as well as the trekkers at this place. Two pinnacles called 'Navara' and 'Navari' can be seen from Anjeneri village. On the way from Anjeneri village to the fort some carvings can be seen in the caves near the steps. The carvings on the caves located near the fort are intriguing and eye catching. The inscriptions are believed to be from the Jain followers. The temple of Anjani Mata, a big marvelous temple devoted to the mother of Lord Hanuman, is another attraction here. The reverse water fall in the rainy seasons is a sheer visual treat.
Do Not Miss
---
• Lake and temple at middle level. • Anjani mata temple at middle level. • Caves near the temple on West side. • Historical remains of wada near the lake. • Hanuman temple on top. • West side view of Brahmagiri fort, Kodhala, Modhala hills. • East side view of Ranjangiri, Ghargad forts and Dangya sulka . • South side view of Nashik-Trimbak Road.
Add Trek Review
anil shimpi
---
Had a wonderful time
sumit gokhale
---
Ideal for family outings, My son who is 7 years old could also climb all the way up,
Nitinkumar mundaware
---
Very nice trek. At the start it looks difficult but once steps of first phase you climbs then its very easy and enjoyable trek
Treks scheduled
Trek Date
No of people
Charges