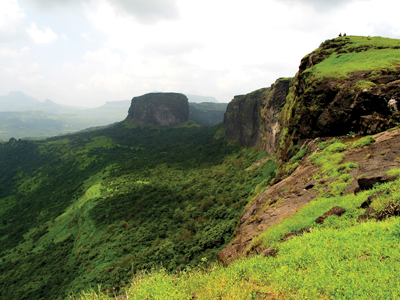 Sasera hill
---
Location Type
---
Hill Fort
Best season
---
All
Distance from nashik
---
50 K.M.
Trekking facts
---
Way:
Walk 2 km towards East from Fanaswadi
Time To Climb :
2 hours / Half day trek
Difficulty Level:
medium
Spread:
Large
Water Availability:
Not available on top Carry enough water from base itself.
Carry Along:
No special equipments
Guide:
Take one from Fanaswadi
How to reach
---
NASHIK to Sasera hill
Reach By Car:
Convenient by car rent. A car facility or Sharing vehicles available from Nashik.
Reach By Bus:
Available from Nashik up to Trimbakeshwar. Sharing vehicles from there till Fanaswadi.
Reach By Train:
Train up to Nashik Road
By Boat:
No boat route.
Facilities available

Accommodation

Food

Garage

Medical aid

Near By Places

Petrol Pump

Souvenir
---
Location Details
---
Being a hill, Sasera does not provide one with enough history to relate with the past. It has been not an active member in creating history that would be established for the decades to come.
User Experience
---
Sasera hill from the Trimbakeshwar range is known for its religious importance. Many of the hills and forts of this region have always attracted the trekkers from everywhere. To the South of this mountain is Athava. One has to start from the col between Sasera and Athava. The pathway is shaded with trees and shrubs. It is slippery as well as cumbersome. The climb is tiring. The top of Sasera does not have many trees. One can start the surveying at the top from the west. To the left is the vast spread landscape. The farms here are completely dependent on the rains and have ample of rainfall. Modernization has reached in this village and that is clearly visible through the glimpses seen. From the North is visible the wide spread Navra - Navri hill. To the East is the pinnacle of Dangya and Ghargad fort. There are many hills in the nearby region and not many forts are seen here. Anjeneri , with a lot of significance in history and mythology is to the North -East. The view of the entire Trimbak range is towards the North-West. The forts of Durgabhandar, Harihar, Fani, Utwad, Bhaskargad, Brahma and Brahmagiri can be clearly visible from Sasera when the skies are clear. To the South and South-West is the Upper Vaitarna dam and towards the South-East is the Mukane dam, making the place lively with the cool breeze flowing over the water of the dam.
Do Not Miss
---
• North-East side view of Anjeneri. • South side view of Kavnai and Dhoriya. • North side view of Utwad, Bhaskargad Harihar and Brahmagiri.
Treks scheduled
Trek Date
No of people
Charges