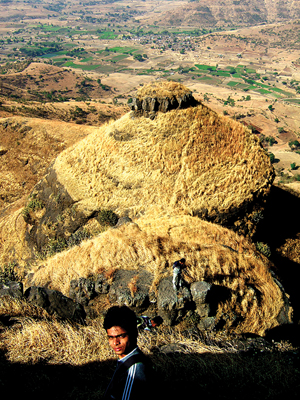 Ranjangiri Fort
---
Location Type
---
Hill Fort
Best season
---
All
Distance from nashik
---
24 K.M.
Trekking facts
---
Way:
From Mulegaon : East side
Time To Climb :
1 hour / half day trek
Difficulty Level:
easy
Spread:
Medium
Water Availability:
Not Available
Carry Along:
No special equipments
Guide:
Available in Mulegaon. It is necessary.
How to reach
---
NASHIK to Ranjangiri Fort
Reach By Car:
Convenient by car. Rent a car facility available at Nashik. Sharing vehicles, autos and taxis available from Nashik
Reach By Bus:
Buses available from Nashik and Trimbakeshwar. Buses from Anjeneri phata up to Mulegaon
Reach By Train:
Trains availabe up to Nashik Road.
By Boat:
No boat route.
Facilities available

Accommodation

Food

Garage

Medical aid

Near By Places

Petrol Pump

Souvenir
---
Location Details
---
There is no reference of Ranjangiri in the historical scripts. There are many such forts which were a part of the historic events. They played an important role in the freedom struggle but were at the backstage. The remains of the historic structure have been disappeared at Ranjangiri over the years. During the reign of Chhatrapati Shivaji Maharaj this fort might have been under the rule of Swarajya since, the nearby Trimbak, Anjeneri were a part of the Maratha kingdom.
User Experience
---
The spread of the fort top is north-south.Ranjhangiri is termed as a fort due to its rock cut steps and the water tanks carved out on the rocks on top. Talking about any fort, one thinks of fortification ,bastions ,entrance gateways and palaces.But none of these can be seen here.An early morning trek to Ranjhangiri is very pleasing with its surroundings fresh in the early sun.The entire region has many forts and hills, trees and shrubs. It takes one to completely another world where the regular chores of one's life are left behind.To the east of Mulegaon is seen the spread of Ranjhangiri.The top of the fort looks like a Ranjhan in marathi,which means a vessel that holds water.It might have derived its name from the same.The pathway is very slippery so one has to be very careful while climbing up the fort.There are some dry water tanks seen on the fort top.
Do Not Miss
---
•View of Ranjan shaped hillock on the right side as you start climbing the fort •Rock cut steps at the entrance •Two water tanks on the north side at the top •View of Dhangya sulka on south side •View of Ghargad (Gadgada) on the south east side •View of Anjneeri and Mulegaon on west side
Treks scheduled
Trek Date
No of people
Charges