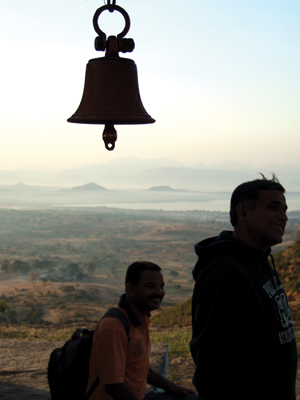 Gadgadya / Ghargad
---
Location Type
---
Hill Fort
Best season
---
All
Distance from nashik
---
25 K.M.
Trekking facts
---
Way:
Straight towards North from Ghargad Sangvi village
Time To Climb :
3 hours / Half day trek
Difficulty Level:
easy
Spread:
Small
Water Availability:
Ample water at the top
Carry Along:
Rope needed from Khind to Gadgadya top
Guide:
Available at Sangvi
How to reach
---
NASHIK to Gadgadya / Ghargad
Reach By Car:
Convenient by car. Rent car available from Nashik. Sharing vehicle available from Wadivarhe phata.
Reach By Bus:
Buses available from Nashik till Sankshi.
Reach By Train:
Nearest railway stations are Igatpuri or Nashik Road.
By Boat:
No boat route.
Facilities available

Accommodation

Food

Garage

Medical aid

Near By Places

Petrol Pump

Souvenir
---
Location Details
---
Ghargad fort is not mentioned in the pages of history. This states that there was no major battle or any other event which could place it on the plot of history. The view from the top gives a glimpse of all the neighbouring mountains. To the West is seen the pinnacle of Dangya. To the North-West is Anjeneri fort. Trimbak is also visible to the far if the skies are clear. To the far South, the forts of Kalsubai range are seen intermingled in themselves.
User Experience
---
To the south of Nashik is the Gadgadya fort which is the last in the Anjaneeri range.The route to this fort is very excieting.After reaching Gadgadya, some distance has to be covered walking.The the climbing starts from the left,amidst sparse trees.The neatly carved pathway catches one's eye.The further path which was destroyed by the british, adds a thrill to the trekking experience.Within half an hour one reaches the valley where to the front is the expanse of Trimbak-Anjaneeri and to the right is the climb to Gadgadya.In the mid way are hte rock cut steps which takes one to the temple Saptashrungi.To the south is seen the fort of Gadgadya Sangvi.After traversing some distance is a small narrow cave.There are many water reservoirs on the top of the mountain which provides ample of water throughout the year.There are some ruins of old palaces and houses which is the only interface which takes one back to its history.
Do Not Miss
---
•Saptashrungi temple on south •View of Dahegaon and Valdevi dam from Khind(valley) on north side •Buruj, tatbandi ,water tanks ,remnants of fort buildings on top •View of Dangya sukla and Anjneeri range on west side
Treks scheduled
Trek Date
No of people
Charges