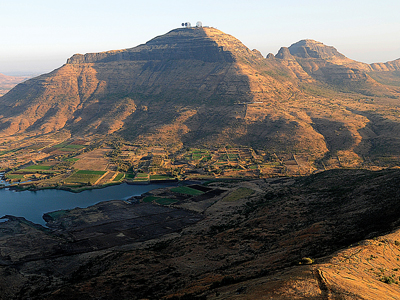 Borgad
---
Location Type
---
Hill Fort
Best season
---
All
Distance from nashik
---
16 K.M.
Trekking facts
---
Way:
Take East route to reach the fort
Time To Climb :
1 hour 30 mins./ half day trek
Difficulty Level:
easy
Spread:
Medium
Water Availability:
Available on top
Carry Along:
No special equipments
Guide:
Not necessary
How to reach
---
NASHIK to Borgad
Reach By Car:
Convenient by car. Rent car available from Nashik. Sharing vehicles and auto, taxi also available.
Reach By Bus:
Buses available till Bhorgad from Nashik
Reach By Train:
Trains availabe up to Nashik Road.
By Boat:
No boat route.
Facilities available

Accommodation

Food

Garage

Medical aid

Near By Places

Petrol Pump

Souvenir
---
Location Details
---
This twin fort of Borgad was constructed to avoid the attack from any nearby hills. Borgad is about 1500 years old.
User Experience
---
Visiting Bhorgad is not possible without the permission of the air force authority. Photography is strictly prohibited in the area. So exploring the top and wondering has become difficult at Borgad. There are mountain ridges on two sides of the hill so climbing from one and descending from the other ensures a better experience. The Maynya hill is visible towards North. Vehicles can reach till the foothills of Maynya. From here one has to walk to Borgad. Dehergad fort is visible on the North - East. The pathway is covered with sparsely covered trees. On the top are seen number of water tanks carved out in the rock. Few rock-cut caves can be found here on both the hills. Army radars are installed here currently which in turn makes the place cumbersome to explore. Towards the East lies the Ramshej fort. The view of Gangapur Dam can be seen towards the South-West. The complete Satmala range is visible on the North side. On the West can be seen the earth fi ll dam of Alandi on the Alandi river and Pimpalnere dam on the East side.
Do Not Miss
---
• View of Dehergad on North - East side. • East side view of Ramshej fort. • South side view of Manyee hill. • View of Gangapur Dam on South - West side. • North side view of Satmala range.
Add Trek Review
Ashish
---
This is one of the greenest all year destination. It is work of Mr Biswarup raha who has greenigied thenplace with a decade of hardwork.
Ashish Kataria
---
Borgad is one of the all year round green range very close to nashik city. There is a beautiful temple and cave during the short hike. The greenification of Borgad is a success story of efforts of Shri Biswarup Raha. There is an airforce station at the top.and entry is restricted beyond a certain point.
Maqsood Shaikh
---
Location is awesome...guidance given is useful
Treks scheduled
Trek Date
No of people
Charges