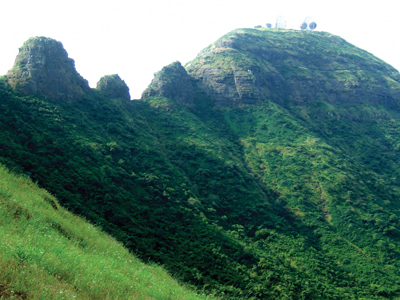 Dehergad
---
Location Type
---
Hill Fort
Best season
---
All
Distance from nashik
---
19 K.M.
Trekking facts
---
Way:
Take South route to reach the fort
Time To Climb :
1 hour 30 mins/ half day trek
Difficulty Level:
easy
Spread:
Large
Water Availability:
Water available in water tanks up to February
Carry Along:
No special equipments
Guide:
Available at Rasegaon
How to reach
---
NASHIK to Dehergad
Reach By Car:
Convenient by car. Rent a car available from Nashik. Sharing vehicles and auto, taxi also available.
Reach By Bus:
Buses available till Rasewadi junction from Nashik
Reach By Train:
Trains availabe up to Nashik Road.
By Boat:
No boat route.
Facilities available

Accommodation

Food

Garage

Medical aid

Near By Places

Petrol Pump

Souvenir
---
Location Details
---
Dehergad is situated in Dindori Taluka on the East side of Ramsej fort. Dehergad is also known as "Borgad". Dehergad was under Swarajya during the times of Shivaji Maharaj. There are no references in the history as to when it was conquered by the Mughals. Borgad, Rajdeher and Ramshej are the trio which stands tall to safeguard the trade route of Peth-Sawalghat-Dindori. It proved beneficial in keeping a track. Seeing the fort, it can be judged that the fort is built before the time of Shivaji Maharaj's reign.
User Experience
---
Dehergad is an excellent trekking destination for beginners to start with, being an easy one. The remains of the fort are there but very rare. Dehergad does not have fortifi cation, bastions or entrance gateways. The water tank on the fort and rock-cut steps prove that the fort is ancient. There is a water tank here and the steps continue towards the East from here. There are three water tanks and a Shivlinga here. Generally places with ample of water sources prove that they were inhabited in the past. These steps take one to the entrance. To the South edge is a roofless temple of Lord Shankar. Remains of the temple are seen. The entire spread is covered with Karvi trees.This trek can be done in half a day.
Do Not Miss
---
• Open to sky Mahadev temple on South side. • Water tank on West side next to the temple. • West side view of Borgad fort. • East side view of Ramshej fort. • South side view of Manyee hill. • North side view of Satmala Range. • North side view of Rasegaon village.
Add Trek Review
Mohan Baxi
---
Very precise and useful info
Ashish kataria
---
Monsoon are a good time to visit the fort. Excellent views of alandi dam and the thick forest below. The streps tend to get slippery though..
जयसिंग सहाणे
---
आम्ही २० सप्टेंबर रोजी गेलो होतो ट्रेक साठी छान आहे.सध्या कारवीची फुल छानच आहेत
Treks scheduled
Trek Date
No of people
Charges