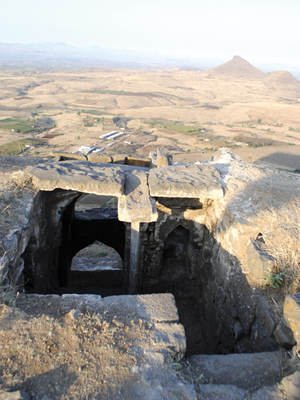 Ramshej fort
---
Location Type
---
Hill Fort
Best season
---
All
Distance from nashik
---
13 K.M.
Trekking facts
---
Way:
1) Towards the North from Aashewadi. 2) Climbing through the secret door from the West, a bit diffi cult.
Time To Climb :
30 min. / half day trek
Difficulty Level:
easy
Spread:
Medium
Water Availability:
Ample
Carry Along:
No special equipments
Guide:
Available at Aashewadi
How to reach
---
NASHIK to Ramshej fort
Reach By Car:
Convenient by private vehicle, rent a car available from Nashik
Reach By Bus:
Regular bus service are available up to Aashewadi on Nashik - Peth highway, from Nashik. From here one has to walk to reach the fort.
Reach By Train:
Train available up to Nashik Road
By Boat:
No boat route.
Facilities available

Accommodation

Garage

Medical aid

Near By Places

Petrol Pump

Shelter

Souvenir
---
Location Details
---
Ramshej is said to be Prabhu Ram's resting place. Prabhu Ram got an opportunity to rest at this fort when he was on his exile.Hence, it was named Ramshej. But, what wrote Ramshej's name in Golden words in the history of the Maratha's was during Sambhaji Maharaj's regime with the bravery and efforts taken by his troop leader and soldiers. Ramshej, which looks easy at first, due to its size, gave a tough fight to Aurangzeb's army for around 5 years from 1682 to 1687.
User Experience
---
The historic fort of Ramshej lies to the North of Nashik city. As one reaches nearby, one sees the green farms all around the fort. At the right stands the small hill of Ramshej with its strong heritage. There is a tiny white temple on the top of the hill which is visable from a distance. As one proceeds, the dense concretejungle is left far behind. After entering the base village, there is a Hanuman temple surrounded with huge shade giving trees. While climbing, one can see Prabhu Ram's temple up, towards the right with beautifully carved statues of Prabhu Ram, Lakshman and Sita. From here begins the climb of the stone carved steps looking over the mesmerizing view of the water reservoir admist the greens. It takes one to the remains of the huge entrance gateway. There are bastions and caves ahead on the way towards the left Seeing this one should walk towards the East, where there are reamains of fortifcation. One has to move towards the fag post where water tanks are scooped out in the earth. The breeze here, lets one surrender himself to the purity of nature.
Do Not Miss
---
• Shiv temple in the cave. • Stone inscription on the Ram temple wall at the entrance. • Shri Ram temple. • Secret tunnel. • Rock cut caves and buruj. • Hidden door on West side. • Bhavani Devi temple on top. • Remnants of bale fort.
Add Trek Review
Rohit Wagh
---
Ideal Location during monsoon season. Must visit with family and friends
Dr Bhavik Shah
---
Very beautiful in monsoon. Just a word of caution... There's are some flat rocks at inclination... Slippery in monsoon ... Require some help while climbing.
Treks scheduled
Trek Date
No of people
Charges