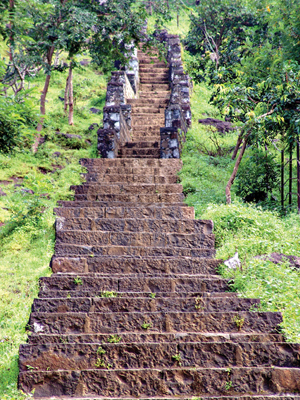 Chamar leni
---
Location Type
---
Hill Fort
Best season
---
All
Distance from nashik
---
6 K.M.
Trekking facts
---
Way:
Many routes at the base of Chamarleni but easiest is from South side of Jain dharamshala
Time To Climb :
1 hour/half day trek
Difficulty Level:
easy
Spread:
Small
Water Availability:
Ample, available at Jain math (dharamshala)
Carry Along:
No special equipments
Guide:
Not necessary
How to reach
---
NASHIK to Chamar leni
Reach By Car:
Convenient by car. Rent a car facility available at Nashik. Shearing vehicles from Nashik
Reach By Bus:
City Buses available from Nashik up to the phata.
Reach By Train:
Trains availabe up to Nashik Road.
By Boat:
No boat route.
Facilities available

Accommodation

Food

Garage

Medical aid

Near By Places

Petrol Pump

Souvenir
---
Location Details
---
During the 11th century, a Jain King named Chamraj from the Southern dynasty carved these caves in this mountain. And hence, these caves are called Chamarlene. However, in the Nashik Gazetteer it is addressed as Chambharlene. At the foothills is a temple of a God from the Chambhar Sect and so is the name. This hill is also known as Gajpathi according to the Jain beliefs. It states that the brother of Lord Shri Krishna, Gajanth Kumar attained salvation at this hill. It is believed that seven Balbhadra (saints) of Jain Sect and their 8 crore Yadav King Followers got salvation here.
User Experience
---
Situated at the North of Nashik, Chamarlene caves are carved in a small hill. There are four caves with no traces of inscriptions found. There are steps carved in stones to reach the caves. There are 449 steps in total. There is a small temple adjoining the caves. Beautiful statues are carved in all of these caves. This place is of great religious importance to the Jain followers. At the foot hill is a beautiful garden and the Samadhi of Kshemendra Kirti. There is also a temple which has Mahaveer statues in four directions. To the North – West lies Borgad, Deher and Ramshej in close vicinity. There is a beautiful Jain Math build by the Jain followers here. The clean, pleasant and religious atmosphere here is truly immaculate. The complete area has a good amount of trees.
Do Not Miss
---
Don't miss • Jain math (dharamshala). • Jain caves. • North - West side view of Ramshej fort. • View of Bhorgad fort of West side. • View of Mhasrul Village of East side. • View of Nashik city on South side.
Add Trek Review
Maqsood Shaikh
---
It was awesome..the details/instructions mentioned were very useful..
Treks scheduled
Trek Date
No of people
Charges