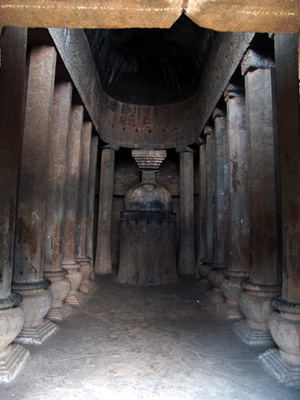 Pandav leni
---
Location Type
---
Forest Fort
Best season
---
All
Distance from nashik
---
4 K.M.
Trekking facts
---
Way:
From North side of Dadasaheb Phalke Smarak at the base.
Time To Climb :
Half hours/ half day trek
Difficulty Level:
easy
Spread:
Medium
Water Availability:
Ample, Government pipeline up to top near the caves
Carry Along:
No special equipments
Guide:
Not necessary
How to reach
---
NASHIK to Pandav leni
Reach By Car:
Convenient by car. Rent a car facility available at Nashik. Sharing rickshaws and vehicles available up to pandav leni
Reach By Bus:
City Buses available from Nashik till Pandavleni.
Reach By Train:
Trains availabe up to Nashik Road
By Boat:
No boat route.
Facilities available

Accommodation

Food

Garage

Medical aid

Near By Places

Petrol Pump

Souvenir
---
Location Details
---
Pandav Leni was built gradually over an extended period of time. These caves were carved out in the 1st and 2nd century as abodes for the idols of the Jain kings. In these times there were sculptures of Jain Thirthankaras. Caves served as temples for early Buddhists, possibly even as a teaching centre. Active shaping of caves continued up to 12th century. Starting from 4th century there were added Buddhist sculptures of Buddha and Bodhisatva. More ancient name of caves is Trirashmi Caves where the root "Trirashmi" means "triple royal". Current name is linked to mythological Pandavas - adventurous brothers from the Hindu epic Mahābhārata. Pandavas made these caves while hiding away from their enemy relatives.
User Experience
---
Towards the South of Nashik, carved in a small hill to its North is Pandavleni. It has 24 caves which contain 27 valuable ancient inscriptions in Brahmi script. Remarkably carved doorways and brilliant sculptures are the main characteristics of Pandavleni caves. Caves are located midway up the Trirashmi Hill. Climb to caves is not too hard and the atmosphere around the caves is peaceful. Most of the caves are Viharas except for the 18th cave which is a Chaitya (prayer hall). It is recommended to visit these East facing caves early morning as in the sunlight, the beauty of carvings is enhanced. This group of caves is one of the most important and intriguing in western India. The site has an excellent ancient water management system and skillfully chiseled out of solid rock are several attractive water tanks. The famous Dadasaheb Phalke Smarak and Buddhasmarak opened for public are known for their creativity.
Do Not Miss
---
• 24 caves (jain bhuddhist influence). • Water tank outside the caves. • View of Dadasaheb Phalke Smarak at the base (stupa shaped) and surrounding garden. • View of Bahula Fort on South side. • View of Ghargad on South - West side • View of Nashik city on North - West side. • View of Ambad industrial area. • View Jawaharlal Nehru reserve forest on South-West side.
Add Trek Review
Sharad Jondhale
---
It is a default trekking destination for Nashikites. Must do if possible on every weekend if there are no other plans.
vyom
---
a true tribute to nashik
Treks scheduled
Trek Date
No of people
Charges