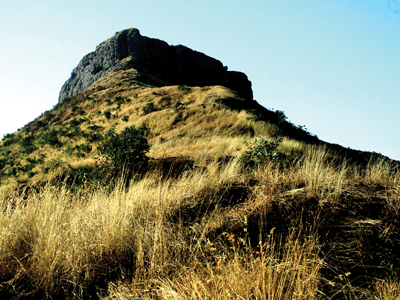 Bahula fort
---
Location Type
---
Hill Fort
Best season
---
All
Distance from nashik
---
9 K.M.
Trekking facts
---
Way:
East side route from Ambe Bahula
Time To Climb :
1 and half hours/ half day trek
Difficulty Level:
easy
Spread:
Medium
Water Availability:
water available at top on East side
Carry Along:
No special equipments
Guide:
Not necessary
How to reach
---
NASHIK to Bahula fort
Reach By Car:
Rent a car and sharing vehicles available from Nashik
Reach By Bus:
Buses available from Nashik
Reach By Train:
Trains availabe up to Nashik Road.
By Boat:
No boat route.
Facilities available

Accommodation

Food

Garage

Medical aid

Near By Places

Petrol Pump

Souvenir
---
Location Details
---
There is no reference of Bahula fort in the historic records. It must have been used as a watch tower for the nearby region.
User Experience
---
The Bahula fort of the Nashik district though not famous for the civilians, is a military base for the Devlali Military camp. The Jawaans of the military practice with the army tanks in this area. Many youngsters from the base village of Ambe Bahula are working in this military camp. The people of the village are very helpful. The foothill of Bahula is just about 4 kms from the village. The climb is very small in the plateau. The grandeur of the fort is breath taking. The creek in middle of the rock face grabs attention. It takes almost an hour to reach this point. There is rock patch in the way and also some rock cut caves which provide as a resting place in the tiring journery. Then starts the stairway carved out of the rock. After 60-70 steps, is seen the entrance gateway of the fort in the ruins. From this point onwards, no remains of the historic buildings are seen. The complete top is covered with grass with only two water tanks visible. The fortifcation wall does not hold strong to the ground and is in a dilapidated state. The forts of Anjeneri, Gadgada, Ranjangiri, Trimbak range, Kalsubai, Alang-Madan-Kulang, Pattya, Giridurg are visible from the top. Entire Nashik city is clearly visible.
Do Not Miss
---
• Rock cut caves. • Carved stone steps. • Ruins of entrance gateway. • Water tanks. • Fortifcation wall in dilapidated state. • View of entire Nashik City.
Add Trek Review
Maqsood Shaikh
---
it was awesome
yogesh nawale
---
My friend told mi, that we have to take military permission to visit bahula fort.. so how to take this permission...?
Treks scheduled
Trek Date
No of people
Charges