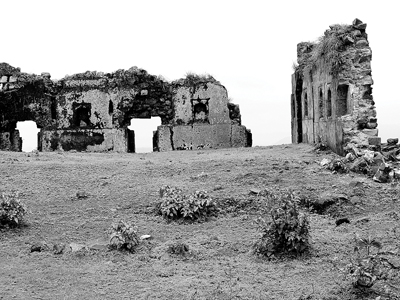 Haatgad
---
Location Type
---
Hill Fort
Best season
---
All
Distance from nashik
---
83 K.M.
Trekking facts
---
Way:
From the East of the Hatgad village
Time To Climb :
1 hour/ Half day trek
Difficulty Level:
easy
Spread:
Medium
Water Availability:
Available throughout the year in the water tanks on top of the fort
Carry Along:
No special equipments
Guide:
Hire one from Hatgad village, it is necessary
How to reach
---
NASHIK to Haatgad
Reach By Car:
Taxis available for Saputara from Nashik and Vani. Rent a car facility available at Nashik.
Reach By Bus:
Buses available from Nashik till Saputara, one has to get down at Hatgad village.
Reach By Train:
Nearest railway station is Nashik Road.
By Boat:
No boat route.
Facilities available

Accommodation

Food

Garage

Medical aid

Near By Places

Petrol Pump

Souvenir
---
Location Details
---
No historical mention of Hatgad has been traced. The only local story is that in the times of Rangrao Odhekar, the last officer who held the fort for the Peshwas, the Bhil community came with a large following and laid siege to the fort. The siege continued for some time but the Bhils could not achieve a victory. They then burnt the village and withdrew. In 1826 A.D., the British conquered this fort.
User Experience
---
Hatgad lies at the crest of the Sahyadris and is close to the district's border with Gujarat. The village which bears the same name lies at the foot of the hill, and is fairly prosperous containing some 700 people. The ascent to the fort is through a narrow passage out in the rock, provided with steps and defended by four gates. Most of the passage is roofed. Below the natural scarp the hill side is pleasantly and thickly wooded. The path climbs through the woods, and, after passing under one or two small ruined gateways, enters the rock and runs under ground for a few yards. As the natural scarp is not very perfect a masonry wall has been run completely round the upper plateau. The wall is now in disrepair. The plateau, which is not very large, is covered with ruins of buildings and with reservoirs. Two of the reservoirs, called Jamana and Ganga, are very deep and spacious, and contain a good supply of excellent drinking water throughout the year.
Do Not Miss
---
• Buruj on North side. • East side tatbandi remnants. • East side lake. • Watch window (tehlni buruj) at the center. • Ruins of Palace at the center next to the tehlni buruj. • West side remains of palace. • Water tank at the center of fort near tehlni buruj Route trek equipment. • Stone inscription on entrance door.
Add Trek Review
mdirector
---
Lication is worth visiting...Highly recommended..
Treks scheduled
Trek Date
No of people
Charges