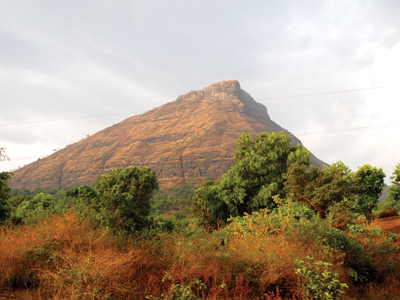 Dhoria hill
---
Location Type
---
Hill Fort
Best season
---
All
Distance from nashik
---
48 K.M.
Trekking facts
---
Way:
From South side of Auhurali village
Time To Climb :
1 hours 30 min / half day trek
Difficulty Level:
medium
Spread:
Medium
Water Availability:
Not available
Carry Along:
Special equipments required. Rope is a must
Guide:
Available at Nagarli village
How to reach
---
NASHIK to Dhoria hill
Reach By Car:
Convenient by car. Rent a car facility available at Nashik. Taxis and sharing vehicles available at Ghoti and Trimbakeshwar
Reach By Bus:
Buses available from Nashik till Ghoti and Trimbakeshwar. Change bus from Ghoti or Trimbakeshwar to reach Auhurali
Reach By Train:
Trains availabe up to Nashik Road and Igatpuri
By Boat:
No boat route.
Facilities available

Accommodation

Food

Garage

Medical aid

Near By Places

Petrol Pump

Souvenir
---
Location Details
---
Dhoria is a mountain but not a fort. And so it has not been a part of any historical event so far. Dhoria is a group of small mountains North - West of Kavnai and South side of Vaitarna Dam.
User Experience
---
Though not a fort, it's an excellent place for trekking and photography. Since the rainfall in this region is more than suffi cient, numbers of dams have been built in the region to cater to the water requirements of the nearby areas. Dhoriais just along the banks of the Vaitarna Dam. Searching the way through the trees and shrubs, one reaches a small valley from where Dhoria is to the right. The path is quite slippery. The entire climb is easy but the last patch needs rock climbing which states nothing can be achieved without great efforts. Not every hill should be a fort in order to have a memorable experience. Coming to the top what is seen is simply unbelievable, nature at its best. The range seen is of small mountains and the vast Vaitarna dam at the North. To the South is the historic fort of Tringalwadi. To the North-East of Kavnai fort. This place is a paradise for trekkers and wanderers. It is apt for long drives with its serpentine turns and calim surrounding, Dhoria being the tallest mountain in this region, the entire surrouniding can be beautifully viewed. In the monsoons, the complete area is covered with fowers.
Do Not Miss
---
• North side view of Vaitarna dam. • South side view of Tringalwadi. • South side view of Kavnai fort. • North-East view Susera hill. • A walk along the edge of Vaitarna dam. • A separated peak on West side provides a view of Dhoria hill from top.
Treks scheduled
Trek Date
No of people
Charges